The Well Centre is a health hub for young people ages 11-20 where they can see a doctor, counsellor or Health & Wellbeing Practitioner to discuss any health concerns or worries in a safe and confidential space.
Opening Hours:
Reception phone line opening hours:
Monday, Wednesday, Thursday 11.00-18.30
Tuesday, Friday 8.00-16.00
Please contact them for an appointment as due to the pandemic they do need to ensure social distancing is in place.
​They are currently running a mixture of face to face, online and telephone appointments across the week.
Contact details:
T: 020 8473 1581
E: lamccg.thewellcentre@nhs.net
W: www.thewellcentre.org
Twitter: @Thewellcentre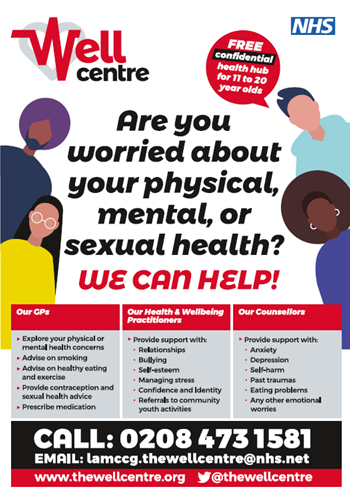 ​