Lambeth Site Allocation Development Plan - Draft (SADPD for short)
Update 20 February 2023
The West Norwood and Tulse Hill Community Stakeholder group held a Zoom meeting to draft a response to Cllr Adilypour which was sent on 16 Feb.
We thanked him sincerely for the decisions that he has taken on Sites 18 & 19, asked to set up his promised face to face meeting to drill down into what the decisions mean going forward, and reiterating we are ready and able to work collaboratively. We await his reply.
Update 3 February 2023
Late on Friday, Councillor Danny Adilypour, Cabinet Member and Deputy Leader for Sustainable Growth and New Homes, announced by email to the West Norwood Community Stakeholder Group the following intended changes to the draft site allocations in West Norwood following consultation with the community as part of the Council's SADPD: 
To review the site boundary at Site 18 and
To remove Site 19 entirely from the draft SADPD.
The Councillor's letter was also published here on the Council's Love Lambeth website:
"Dear all,
When I became the responsible Cabinet Member last summer, I committed to reviewing site 18 and 19's allocations in the draft Site Allocations Development Plan Document (SADPD).
I'm grateful to the many residents and local businesses who I've spoken to since then. Whether it's through the site visits with ward councillors, the three workshops we held in the autumn, meetings with community groups and the Station-to-Station BID, or the opportunity to have discussions around the dining room table of a resident of Knollys Road, I've found these conversations insightful and helpful in understanding the community's feelings regarding these sites.
Having considered these views carefully and listened to advice from the Council's planning department, I've therefore asked the planning team to redraw the site boundary at Site 18 and to remove Site 19 entirely from the draft SADPD.
I have heard the concerns about the potential redevelopment of homes and businesses within the current Site 18 boundary on Norwood Road. I have therefore asked for the current boundary to be redrawn and I am making it clear that we will exclude the housing areas at the northern and southern ends of the site.
On Site 19 at Knollys Yard, some residents raised concerns about height and scale during the consultation. As I've made clear in my meetings with local residents, whilst a planning application may still be brought forward by a party at any time and go through due process in line with the council's planning policies, I recognise the community's concerns and I have therefore asked the planning team to remove Site 19 from the SADPD.
Lambeth, like the rest of London, faces an unprecedented housing crisis. The rising cost of living also means delivering new employment opportunities and building genuinely affordable new homes for local people remains our top priority. Since my appointment in May, I've been working to ensure that Lambeth is an attractive place to invest and that the council's planning policy and strategic projects deliver sustainable growth for the benefit of our local communities. That goes hand-in-hand with continuing to listen to you as our residents and local businesses.
The planning team are now working on an updated policy that will revise the Site 18 boundary as outlined above. The detail of this will be made available for residents to comment on the soundness, legal compliance and the duty to cooperate of the SADPD when it is published for pre-submission (Regulation 19) consultation. This is expected to be towards the end of summer 2023, ahead of submission to the Planning Inspectorate.
All those who responded to the Regulation 18 consultation in Jan/Feb 2022 and all those on the planning policy database will be notified of the Regulation 19 publication, as well as this being published on the Council's website and made available at the Town Hall and in all Lambeth libraries.
Following the closing date of the Regulation 19 consultation, the Council will provide the Planning Inspectorate with a schedule, which will include all representations made together with the Council's response to those, alongside the Draft SADPD Proposed Submission Version and supporting evidence for independent examination. Residents can also express their interest in speaking at an examination hearing, which is expected to take place in late 2023 or early 2024. If you or anyone else you know would like more information or to receive future notifications on the SADPD, please email planningpolicy@lambeth.gov.uk or phone 0207 926 1704.
In the meantime, I'm grateful for the engagement I've had from you all throughout this process to date and I remain available to discuss any concerns you have. I look forward to continuing to work constructively with the community and our stakeholders, local businesses and ward councillors in the months and years ahead.
The West Norwood Community Stakeholder Group will meet as soon as possible to consider its response.
Update 19 January 2023
The Council responded to the online petition as follows:
'The Cabinet Member acknowledges the points raised in the petition. At the present time the Cabinet Member is continuing to consider carefully the views raised by the community, and other stakeholders, on the West Norwood draft site allocations. An update on the direction of travel in relation to these site allocations will be provided in due course.'
Update 8 December 2022
Please sign the online petition here to Lambeth Council. This seeks:
The removal of Sites 18 & 19 from the council's policy document (SADPD) and 
Consultation and engagement with the stakeholder groups and the wider community by the Council and for all to work in partnership to develop a holistic vision for the whole of West Norwood and Tulse Hill, including plans for Sites 18 & 19.
Update 2 December 2022
Lambeth Cabinet (5 December 2022) is to consider this report on the Kerslake Review (see also update 7 August 2022 below). The Kerslake Review report itself can also be read here.
Update 17 November 2022
The final West Norwood and Tulse Hill Community Stakeholder Group workshop with Lambeth Council was last night. It was chaired as all three have been, by Cllr Danny Adilypour. A summary of the situation will be posted here shortly.
Update 16 November 2022
Follow up questions from previous workshops with answers from Lambeth Council 16.11.2022
Update 8 November 2022
Draft notes from Lambeth from the second workshop
The Stakeholder group are reasonably happy that the content reflects the basics of what was discussed, but considers these notes dont reflect the strength of opinion in the room. Comments have been sent back for revision in the final account.
Update 28 October 2022
Norwood Action Group are holding their AGM on Thursday 24 November 2022, 7-9pm, Rosemead School, 70 Thurlow Park Road, SE21 8HZ (at junction with Lancaster Avenue). The AGM will be followed by a public meeting on Sites 18 & 19. Come along to hear the latest updates. 
Update 27 October 2022
Outcomes of first Stakeholder workshop
Lambeth slide deck
Lambeth Q&A
Lambeth notes from the workshop
Update 22 October 2022
The West Norwood Community Stakeholder Group, representing local residents and businesses: Norwood Forum, Norwood Action Group, Friends of West Norwood Station, The Norwood Society, Station to Station BID, Knollys Yard Community Group, plus Councillors from our local wards (Knights Hill (both sites are in this ward), Gipsy Hill, West Dulwich, St Martins and Streatham Hill East) were invited by Lambeth to attend three workshops. They  told us: 'These workshops will be focused on the consultation feedback in relation to the Draft SADPD for West Norwood and Tulse Hill and the possible approach to delivery for Site 18.' We were asked to collectively respond by 25 September.
To reiterate, the consensus amongst the Stakeholder Group is that both sites should be removed from the SADPD, and a proper community consultation process undertaken to collaboratively review the existing Master Plan and design a new, holistic development approach to our whole neighbourhood - including Sites 18 & 19.
With the active support of the wider community campaign members - all local residents, a response was drafted which rejected the framework for these workshops as laid out by Lambeth, and asked for a different form of workshop approach:
A Way Forward
'We would be willing to attend a meeting whose purpose it is to design an appropriate collaborative way forward. This would need to involve at a minimum double the number of people you suggest in your email (15). We would expect any relevant information to be circulated seven days before the meeting date. At present the only information being provided is in support of the Lambeth existing plans. Full data of, for example, housing needs, and the rationale for the change of the existing Tall Buildings policy would be essential.'
This was rejected by Lambeth, and following many further emails, the Stakeholder group reluctantly agreed to attend the first workshop. We were promised input into the agenda, but this did not happen. There was a forthright discussion which should have left Lambeth officers (who were predominantely from the Sustainable Growth & Opportunity Directorate) and Councillor Danny Adilypour (whose portfolio includes SADPD), under no allusions on the strength of the community's opinions on the current Sites 18 & 19 proposals. A summary of that meeting will be published shortly, but the outcome was that Lambeth have agreed to produce a list of 'pros and cons' for both sites remaining in, or being removed from, the SADPD, and this will form the basis of the agenda for the second workshop.
Councillor Danny Adilypour has confirmed he is still fully reviewing the SADPD and the inclusion of Sites 18 and 19 in this and is willing to consider all options.
If you would like to take an active role in this campaign, please email info@norwoodforum.org.
Update 26 September 2022
Due to the funeral of Her Majesty Queen Elizabeth II, EcoWorld cancelled the workshop on the Public Realm scheduled for Monday 19 September.
Instead they have decided to merge the Public Realm and the Employment session together for 3 October.
Note there is a new venue: The Elmgreen School, Elmcourt Road, SE27 9BZ from 6pm to 7.30pm.
They advise:
If you already signed up for the Workshop on 3rd October or 19th September, please be assured your place at the Workshop is confirmed. If you no longer wish to attend, please let us know. If you haven't signed up for the Workshop on the 3rd and would like to attend, you can do so HERE.
EcoWorld's own slide show from this combined second and third workshop
Update 13 September 2022
Key learnings from the first EcoWorld workshop
EcoWorld's own slide show from their first workshop
Update as at 5 September 2022
Ecoworld are holding three workshops on different topics on the future of Knollys Yard (site 19):
Design: Saturday 10 September 2022; 10:30am-1:00pm
Public Realm: Monday 19 September 2022; 6:00pm-8:00pm
Workspace and Employment: Monday 3 October 2022; 6:00pm-7:30pm
You can book a place to attend to offer your views on the proposed development by:
Visiting their website: https://knollysyard.co.uk/
Email to: feedback@knollysyard.co.uk
Telephoning: 0800 2987 040 
Venue for all workshops: St. Martin's Scout Hut, 16-28 High Trees, Tulse Hill, SW2 3PU
Ecoworld say the workshops will not be a detailed presentation of their final proposals; they will be seeking to understand local views and feedback on what is important to you. Each will be led by an independent facilitator with members of the Knollys Yard project team on hand to hear your views on different aspects of the above topics.
Further events are promised later in the year, including a public exhibition.
Update as at 17 August 2022
Ecoworld is the proposed developer of the Network Rail owned site 19. The London Mayor has approved a £20.5m infrastructure grant to "address the viability gap affecting the proposed development. Addressing the scheme's viability gap will provide sufficient financial assurance for the developer to progress a planning application for the site; and will enable the delivery of circa 430 homes on site, which would not have progressed without this investment." 
Ecoworld are holdng their own public consultation exercise on their proposals. They have held three "walk and talk" sessions at which residents were guided around the residential streets close to the site and given the opportunity to ask questions of Ecoworld representatives and BECG (their PR consultants); there was no presentation of any plans. They say they want to listen to ideas and the views of the local community and will be presenting proposals at a series of workshops to start in September 2022. These workshops "will provide - - - - more details about the proposed development and allow you to have your say about our proposals". Ecoworld will run further "walk and talk" sessions if there is demand. You can sign up to express an interest in these sessions here on their website and you will then be advised direct about their planned September workshops.     
Update as at 7 August 2022
Lambeth Council established the Kerslake Review of the strategic delivery of new affordable homes in Lambeth. This is an independent review aiming to boost the delivery of genuinely affordable housing in Lambeth. All interested parties were asked to submit their views by Sunday 7 August 2022. The review is due to report to the Leader of the Council, Councillor Claire Holland and the Cabinet Member for Sustainable Growth and New Homes, Councillor Danny Adilypour, in the early autumn. You can read our submission here.
Update as at 27 July 2022
The Stakeholder Group met with Cllr Danny Adilypour today. We had sent him a long list of questions gathered from discussions during Norwood Forum AGM, residents groups and the wider community. Cllr Adilypour was not in post when the SADPD process was begun. He made it plain that there is 'no rush' and 'no timetable'. 
We discussed issues such as affordable housing, EcoWorld, infrastructure and the lack of community consultation.
It was confirmed that no one would receive a personal response to the comments they made as part of the recent Regulation 18 consulation process.
Each comment made by the community will be replied to in the officer report that goes to councillors and Cabinet as part of the Regulation 19 consultation process.
A series of workshops were proposed to discuss in detail the main areas of objection. We await further details on these and will share them immediately here and on social media. They are likely to happen in September and will happen in West Norwood.
In the meantime, if you are interested in joining the community campaign group, please get in touch here. We have had one meeting and plan another soon.
Update as at 9 July 2022
At our AGM and public meeting local Knight's Hill Ward councillors announced there is to be further public engagement on the Council's plans for large scale development with tall blocks at both sites 18 and 19.
There is a new Cabinet Member responsible for strategic planning: Councillor Danial Adilypour: Deputy Leader of the Council (Sustainable Growth and New Homes) and he has indicated the new approach in the answer to a Council question from Councillor Ibtisam Adem to the meeting of full Council on Wednesday 13 July 2022 (see question 17 here). 
Councillor Danial Adilypour has also agreed to meet with the stakeholder group to listen to our views on the lack of public consultation and engagement from the Council, and unsuitability of the current proposals. 
Update as at 29 March 2022:
We made representations to the Leader of Lambeth Council for sites 18 & 19 to be withdrawn from the SADPD. You can read our reasons in our original representations below. We wanted clarity on the timescale for considering the feedback received on the 14 sites across the borough.   
We asked the Leader to make an urgent public statement on the timetable and process going forward, and suggested that given the weight of objections made against sites 18 & 19, Cabinet (21 March 2022) be asked to approve their withdrawal from the SADPD to enable consultation to find a better solution to develop the sites. 
The Leader of the Council advised that the SADPD process will proceed unamended, that our ward councillors will be fully involved in the discussions about the future of sites 18 & 19, and that there will be further public consultation on these sites. The published timescale for the next stage in the SADPD process is:
"Pre-submission publication of the SADPD Proposed Submission Version (Regulations 19 and 20): Winter 2022/23 "
In the meantime one developer, Woolbro Homes, is currently in discussion with the Council to redevelop part of site 18: 1-5 Waylett Place. You can read more about their plans 
here
.
Representations
You can read the Norwood Forum full representations on sites 18 & 19 
here
. These were sent before the Council deadline of 22 February 2022 (11pm).
Also our Knights Hill Ward Councillors: Jackie Meldrum, Jane Pickard and Sonia Winifred made separate representations on
Site 18
and
Site 19
.
Our MP Helen Hayes has asked the Council to withdraw site 18 so as to allow collaborative co-design, and made representations against tall buildings at site 19. You can read Helen's statement here.  
You can read further representations:
What next?
We are very concerned there is no clarity around what will happen next, so we have written to the Leader of the Council: Councillor Claire Holland to ask urgently for clarity on the time scale and processes in place to respond to our community response. From viewing the Commonplace site there is extensive opposition to both Sites 18 & 19 proposals, and this is also clear from the meetings, representations, social media, conversations and other feedback we have received from local businesses and residents. The Commonplace site alone accounted for more opposition to Sites 18 & 19 than all the other Sites put together. 
 
---
What is the Draft SADPD?
Lambeth Planning is consulting on 14 development sites across Lambeth, with two in West Norwood: 'Site 18' - which is the area between Lansdowne Hill and York Hill and is proposed to include an approx. 11 storey tower block, and 'Site 19', the triangle of industrial land off Knollys Road between the railway lines where three tower blocks are proposed - the highest approx. 22 storeys. This 'Plan', if agreed, will provide guidance for developers making planning applications - and MUST BE STOPPED.
Why? Because the community has not been properly consulted. This community driven campaign is not against development - we desperately need local housing for local people and the derelict land behind Texaco must be put to good use - but not like this - and not without involving the community.
Read on for more information: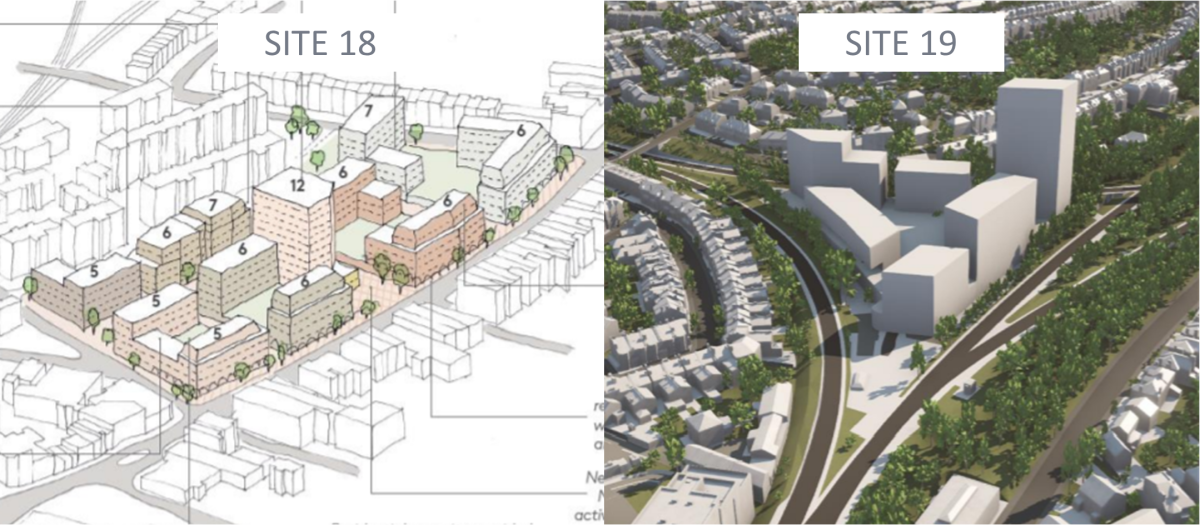 How you can object to these development plans
#ConsultTheCommunity
Two things the Stakeholder Group urges you to do:
1: Email sadpd@lambeth.gov.uk to demand the removal of Site 18 and Site 19 from this consultation - reasons below
2: Email sadpd@lambeth.gov.uk with your comments on the proposals for Site 18 and Site 19 - suggestions you might use are also below
Deadline to comment
11pm on 22 February 2022
Group of Residents?
If you want support to put together a group submission, please get in touch asap here
Who are the Stakeholders?
Norwood Forum, Norwood Planning Assembly, Station to Station BID, Norwood Action Group and and local Knights Hill and Thurlow Park Councillors.
1: Why the Stakeholder group believes the two sites must be removed from the current consultation
The group have been 'briefed' by Lambeth Council's Development Team in a one hour meeting and that is all the public engagement that Lambeth are prepared to do.
See here the presentation that Lambeth showed the Stakeholder group at this briefing meeting, and next the questions we asked in advance of that meeting - with Lambeth's responses that were provided afterwards.
We do not consider this sufficient for such radical proposals for our neighbourhood.
We shall be campaigning vigorously to have Site 18 and Site 19 removed from this Draft for the following reasons:
Unlike the other 12 sites, Site 18 and 19 are major developments that will profoundly impact the retail and residential heart of West Norwood and Tulse Hill – one of the five town centres recognised by Lambeth.
No other Lambeth town centre is to be affected in the same way by these development plans, so we believe that the consultation process must also be treated differently to reflect this.
There has been insufficient time to adequately engage the community in understanding the proposals and their long term impact
This current approach ignores all the good practice community consultation that has previously happened, and the recognised capacity of local community organisations to deliver that level of consultation. As the 2017 Masterplan: Moving Forward: A Collaborative Approach to Delivery, describes:
It is vital that principles of collective action, collaboration and partnership are at the heart of efforts to work towards agreed objectives and aspirations for the area. The strength and willingness to engage of the West Norwood and Tulse Hill community has been instrumental in delivering numerous successes for the area in recent years. The area is also home to a high number of organisations which have the capacity and expertise to take a lead in aspects of delivery, and which have also stated their desire and commitment to being part of future delivery.
A positive way forward
There is an established community volunteer led Neighbourhood Planning Assembly who are writing a Neighbourhood Plan. This forum should be used to develop genuinely collaborative and community driven proposals for these two sites.
2: Suggested comments - but please use your own words so every comment is different
We strongly recommend using email (as well as Lambeth's Commonplace - details below).
We believe that individual emails - each raising a single point - will be more effective.
Please get involved.
We are not commenting on detailed planning applications so issues of construction traffic, business disruption compensation, etc, whilst relevant in the longer term, are not quite so important now.
The exception to this is the proposed new access to Site 19. The dubious financial viability of Site 19 also comes with the risk that developers could argue away the affordable housing allocation.
We can be emotional – talk about the substantial change this will bring to our neighbourhood and our way of life – the change to the heart of our community.
We don't want to see a swath of 'developer architecture', but an ambitious incremental development with the community as an equal partner in an exemplary approach to town centre redesign.
We believe that incremental development (within an outline Master Plan) is the only way forward as it enables the development to reflect change in the way we live our lives.
Nothing in these proposals reflects the changes that Covid-19 has brought to every aspect of our lives.
We expect world class urban design that recognises West Norwood as an existing viable, successful, neighbourhood with an enviable strong sense of community.
We welcome investment that sees the community as a partner.
Our 'high street' of independent retailers, with low vacancy rates, has proven resilience backed up by statistics.
Local businesses have emerged strongly out of the pandemic and this delicate balance requires sensitivity not broad brush stroke development.
We recognise the desperate need for new, mixed accommodation for local people at affordable rents – but not at any cost. We want to see local homes for local people – designed in collaboration with local people.
We expect ambitious environmental credentials for any development. 
We have a strong identity that blends independent business with residential accommodation in heart of our community. We have reached this enviable position organically and nothing in these development proposals puts sufficient value on the sense of place that already exists. 
These proposals do not provide adequate provision for our existing 'dirty' businesses - e.g. scaffolding companies and car repair workshops. These are essential parts of our local ecosystem that make Norwood a 15min Neighbourhood. 
B&Q is an anchor store in West Norwood, another reason we can call ourselves a 15min Neighbourhood, we can see no specific proposals to retain this important business along with its essential parking - that is also an important asset for the rest of the shopping area.
Exemplars:
Norwich Council housing development
Barking and Dagenham artists development
More background in our News story here
How you can comment:
Views will need to be submitted by by 11pm on 22 February 2022.
You can comment in the following ways:
Commonplace Site 18
Commonplace Site 19
Email: sadpd@lambeth.gov.uk
Post: Lambeth Council, Planning Policy and Strategy, PO Box 734, Winchester, SO23 5DG
We highly recommend email.
Read all the comments on Commonplace
Follow the Conversation Proposed Site 18 – Commonplace
Follow the Conversation Proposed Site 19 – Commonplace
And this story on what a 'Like' actually means
The number of 'Agreements' is not the number of people agreeing with the proposals, but the number of people agreeing with the comments - some for, some against.
Whats next?
Please comment!
The Stakeholders are organising a community response - talking to residents groups, local faith groups etc.
If we haven't talked to your group - please get in touch! info@norwoodforum.org
The Stakeholders will also be making our own individual responses.
News regularly posted on Facebook: Norwood Forum, West Norwood Local and Tulse Hill Forum