Both our fantastic new library and cinema have laid on regular classes and special film showings for our local community.  Here's a flavour of what's going on but do always check before travelling.
At the Picturehouse:
Reminiscence screenings are a showing of a classic film introduced by the Picturehouse resident film expert and followed by an informal discussion. There is a reduced ticket price for the over-60s of £5 which includes a complimentary tea/coffee. Its a fun and social event where people who love film get to discuss some of cinema's greatest works. These screenings will take place on the fourth Thursday of the month (except in December which is on the 20th) at 12noon:
20 December 2018: It's a Wonderful Life 
24 January 2019: Singin' In The Rain 
28 February 2019: Mildred Pierce 
28 March 2019: Barbarella 
Dementia Friendly screenings are also being held. These screenings are open to all but especially for people with dementia and their family, friends and carers. Be there 30 minutes before the film for free tea or coffee and biscuits and a chance to socialise. The film will start at 10:30am. These screenings will be on the fourth Friday of the month (again, except December, which will be on the 21st). The cost is £4 and free for an accompanying carer:
21 December 2018: The Wizard of Oz
25 January 2019: Singin' In The Rain 
TBC: Mama Mia 
Website: West Norwood Picturehouse
In the Library:
Under the banner "Open for Discovery" there's something going on every day.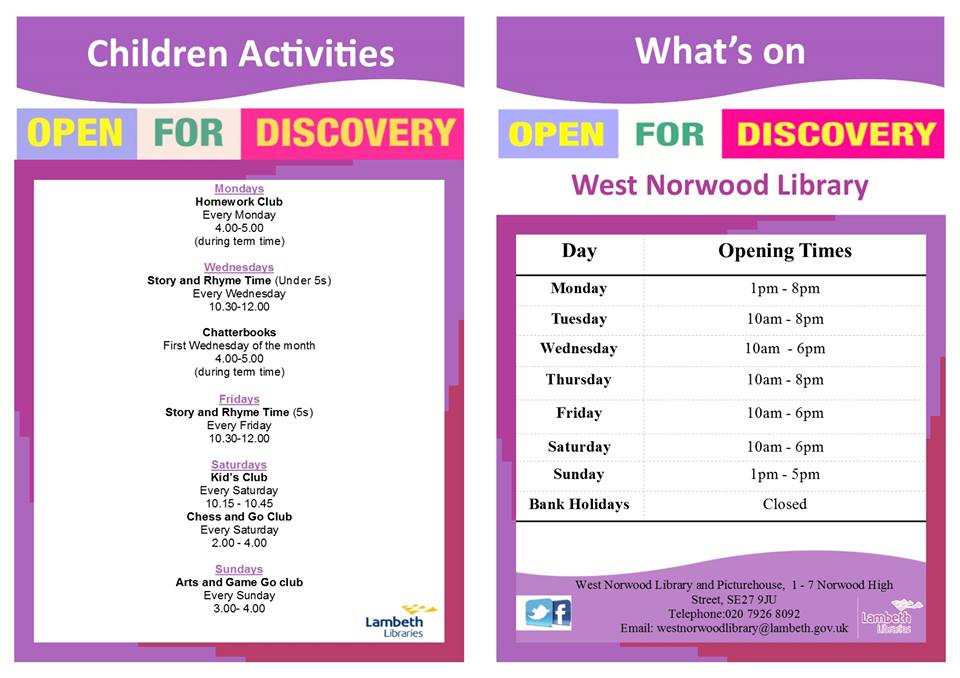 Further info:
Email: westnorwoodlibrary@lambeth.gov.uk
Facebook: West Norwood Library
Tel: 020 7926 8092
Where: West Norwood Library & Picturehouse, 1-7 Norwood High Street, SE27 9JU