This year's 4ALL's 2018 Community Autumn Fair promises lots of interest and fun for everyone:
See the work of local artists and craftspeople.
Meet local groups and charities.
Hear music performances from local schools.
Enjoy BBQ and tea & cakes
Lots of activities for children
Fire engine and Dr Bike repairs
The main aim of 4ALL – Building Community in West Dulwich is to build a stronger community in and around West Dulwich, working with volunteers to help younger and older people locally. There are two projects for younger people: Between the Tracks and Between the Tracks Plus; two after school clubs for 8-16-year-olds (school years 4 to 11) living on or near the Lairdale, Peabody Hill and Rosendale Road estates; and for older people there is a community choir – SING4ALL – and an Effective Exercise class.
When: Saturday 22 September 2018 (2-5pm)
Where: All Saints Church, Lovelace Road, West Dulwich SE21 8JY
More info.: 4ALLwebsite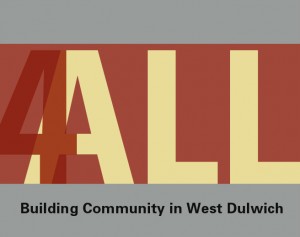 event date:
Saturday, September 22, 2018