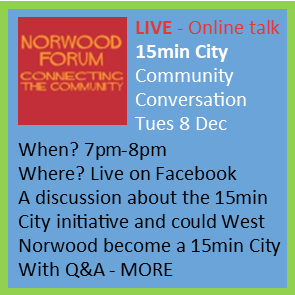 Community Conversation: 15min City
This is our second Festival Legacy Project and will take the form of our semi-regular live-streamed Community Conservations.
From London Living Streets:
'There has been a huge amount written about the 15-minute city with the emphasis on glamorous city centres in global cities. The reality though is that the 15-minute city is perhaps less likely to find its fullest expression in those city centres where relatively few people live than in local urban high streets and town centres.
When we add the impact of the pandemic, with more people working from home and making use of local shops and services, these local centres have even greater potential to become the heroes of sustainable living.'
Join this conversation and share your thoughts with our invited guests as we discuss if the 15min City concept might be a good fit for West Norwood. 
This event will be live-streamed to Facebook here: www.facebook.com/TheNorwoodForum/
You don't need a Facebook account to view.
Send in your questions in advance to: info@norwoodforum.org, or ask them during the session by using the Comments box beneath the live-stream (you do need a Facebook account to do that).
Confirmed guests:
Jeremy Leach - London Living Streets and Southward Society. Jeremy will be talking us through his 15min City case study for Walworth Road
Tom Venables - Norwood Planning Assembly. Tim will be highlighting how the 15min City ethos was part of the original development of London suburbs, including West Norwood
Charlotte Ashworth and Bronwen Rice - Station to Station, West Norwood and Tulse Hill - our local Business Improvement District
Simon Phillips - Transport Manager, Planning, Transport & Development, Lambeth
Pete Elliott, Lambeth Councillor Gipsy Hill Ward, Green Party
Sarah Berry - Lambeth Living Streets and Railton Road LTN
Helena Rivera - A Small Studio, architects based in West Norwood
Kim Hart - Norwood Forum
Sunil de Sayrah - Norwood Forum
Noshir Patel - Norwood Forum