#ScrapTheYard and the fantastic community turnout at the public protest on Thursday 27 May outside the yard gates, with our local MP, Helen Hayes speaking.
Our thanks to Pete Williams for the video. Also find it on YouTube here
Helen Hayes, MP for Dulwich and West Norwood
"Windsor Grove is a completely unacceptable location for a large metal recycling facility, which would bring more than 100 trucks a day down this narrow cul-de-sac. 
"I have written to Lambeth Council with all of the Labour ward councillors on behalf of local residents to object in the strongest possible terms. 
"This application must be rejected."
www.helenhayes.org.uk
Councillor Jane Pickard
"This proposal still poses a threat to pollution and road safety in the roads round the site, despite Southwark Metals saying it would reduce tonnage.
"There would still be at least 53 heavy goods vehicle movements a day according to the company's own estimates which may be on the low side. That is too much for a residential area with fairly narrow streets, lined on both sides by parked cars, and used by hundreds of school children. In addition, there would be 103 vehicle movements by cars and vans.
"The council has declared a climate emergency and wants to reduce pollution, not increase it. Allowing this development to go ahead would be disastrous."
Labour councillor - Knights Hill Ward (London Borough of Lambeth)
https://moderngov.lambeth.gov.uk/mgUserInfo.aspx?UID=2903
Councillor Fred Cowell
"This application needs to be opposed. Speaking to planning officers they have made it clear there are no safeguards against large lorries going through West Norwood. Hour on hour of oversized vehicles polluting the area and congesting the streets."
Labour & Co-operative Councillor - Thurlow Park Ward (London Borough of Lambeth)
https://moderngov.lambeth.gov.uk/mgUserInfo.aspx?UID=8914
Rob Andrew, Norwood Action Group
"In the face of fierce local opposition, this  year‑old application that Lambeth was set to refuse last August has been scaled down. Southwark Metals hope to snatch victory from the jaws of defeat by now saying daily vehicle movements would 'only' be about 150, and annual tonnage 'only' 25,000. This looks like it could win Lambeth over. We need your help, please object to Lambeth Council.
"If you were one of the 1,464 people who made an objection to Lambeth in the earlier round, it's vital you do so again. Make clear that the lower figures are still an outrageous proposal. The plan impacts the entire borough, dragging most of the scrap carriers through the whole length of Lambeth. Everything about this planning application is plainly wrong."
www.norwoodactiongroup.org
#ScrapTheYard - STOP PRESS 26.05.21: Read our new press release here
For further information about the campaign, please contact: 
Rob Andrew at Norwood Action Group - info@norwoodactiongroup.org / jrandrew@talktalk.net
For media queries, please contact:
Claire Felstead - clairefelstead@yahoo.co.uk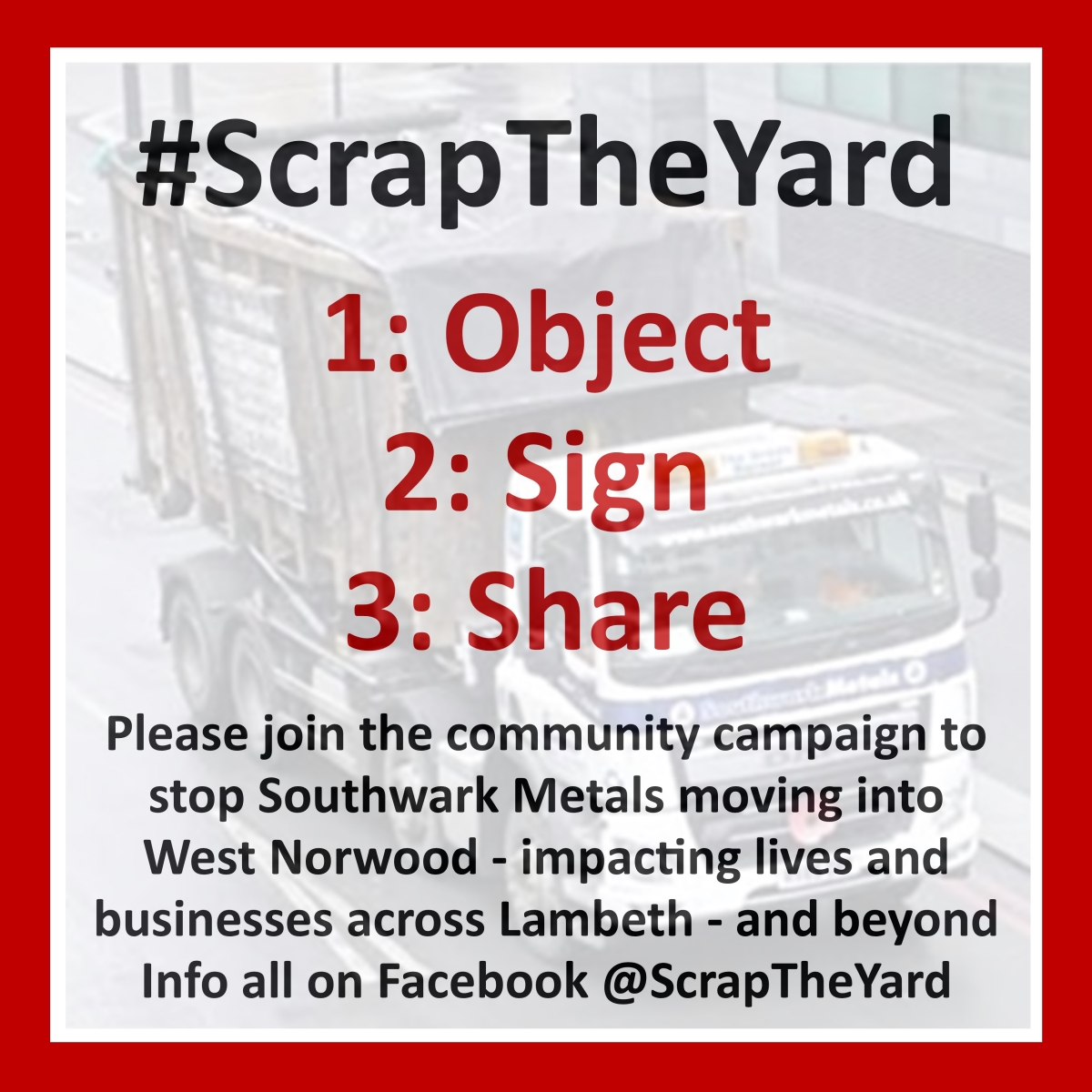 #ScrapTheYard is a grass roots community campaign to prevent Southwark Metals from moving to Windsor Grove in West Norwood.
Please see our flyer below for why this is so important.
And please use the campaign hashtag at every opportunity #ScrapTheYard
How can you help?
1: OBJECT #ScrapTheYard: Tell Lambeth you reject the plan, AGAIN!
This is important otherwise Lambeth may think we're happy with the reduced plans. Act now, the decision could be soon.
Go to planning.lambeth.gov.uk/online-applications. Search 20/01066 – two will show – choose the one: 'Land off Windsor Grove', and follow the instructions on the Comments tab.
2: SIGN #ScrapTheYard Sign the grass-roots petition (only once is possible): Click here
All thanks to local resident Carmen Sandilands, who set this up over 18months ago.
3: SHARE #ScrapTheYard Spread the Word any way you can
Ask loads of friends, neighbours, school parents and staff to join in. People Power will win through. Link to this Facebook page using @ScrapTheYard - and always use the hashtag #ScrapTheYard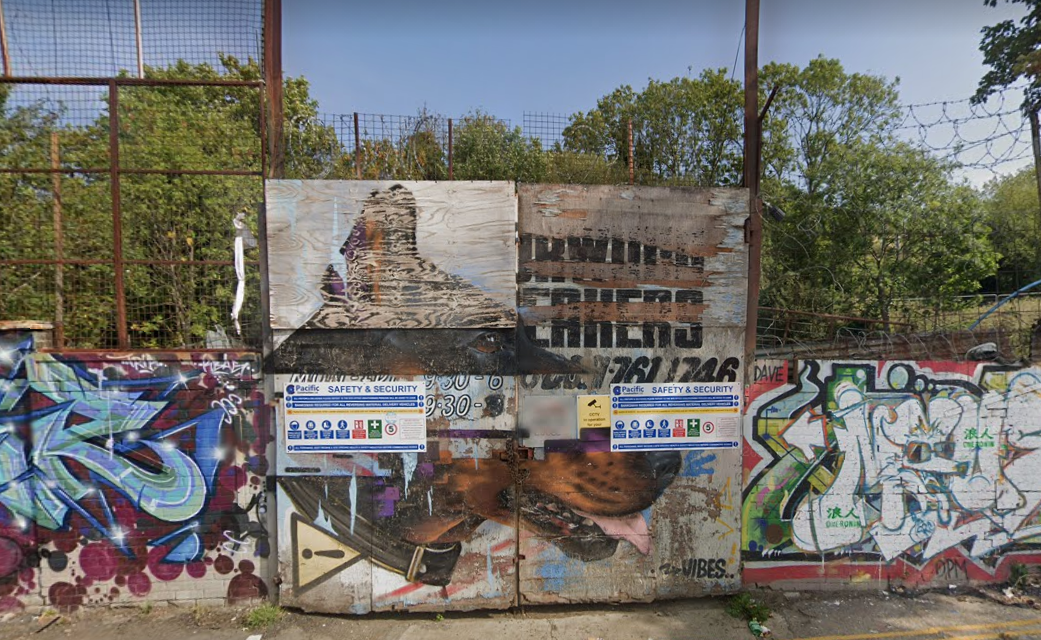 4: DEMONSTRATE #ScrapTheYard Huge thanks to all the amazing people who turned out for the public protest outside the yard gates yesterday (Thursday 27 May). See the fantastic video of the speech made by our local MP Helen Hayes at the top of this page.
Are you on social media?
Follow, like, share the campaign on Facebook: @ScrapTheYard, Twitter: @ScrapTheYard_WN, Instagram @ScrapTheYard
More info
Our flyer has lots more info, click to enlarge/copy/save/share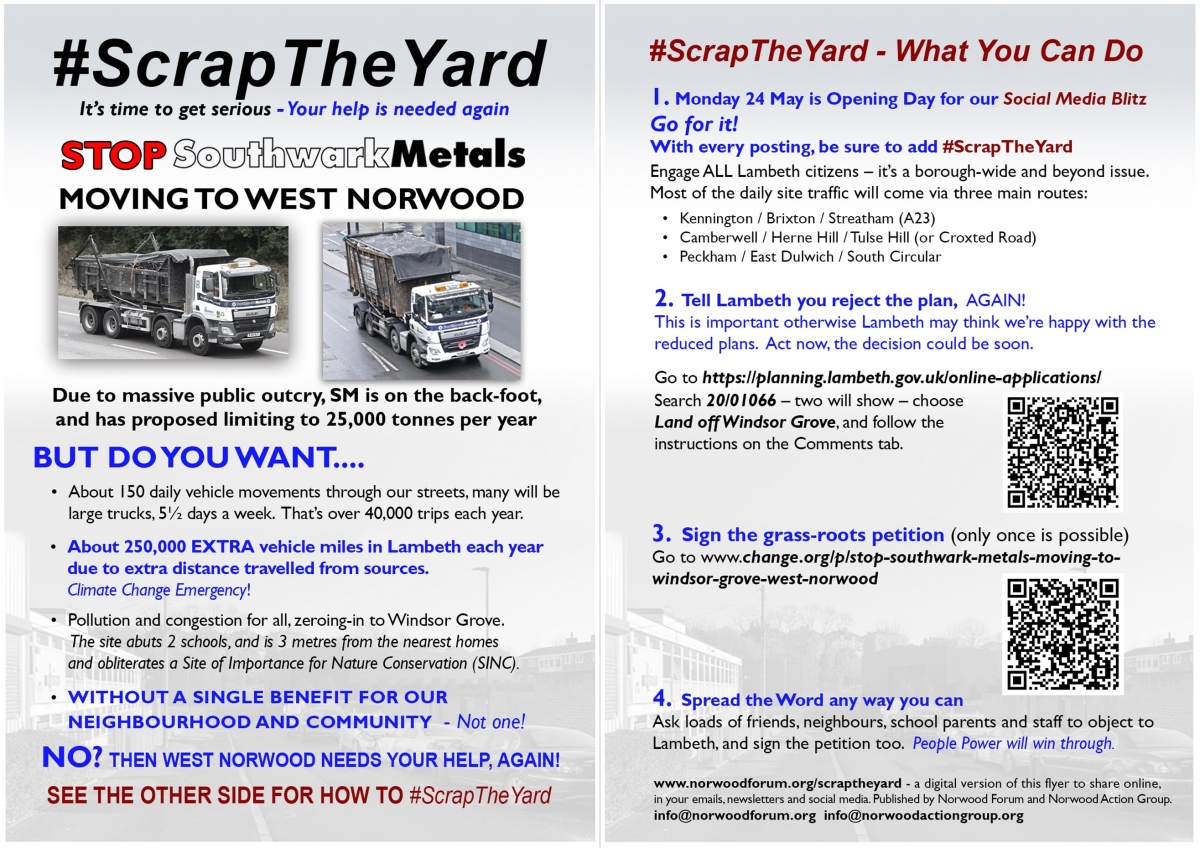 Our map shows the routes that will be affected, click to enlarge/copy/save/share