Latest news
Southwark Metals have lodged their appeal
The anticipated appeal has now been lodged by Southwark Metals.
There are two parts to the process:
1: The first is that amendments to previous comments, and new ones can now be sent in, either by email https://acp.planninginspectorate.gov.uk or by post to: Robert Wordsworth The Planning Inspectorate Room 3J Kite Wing Temple Quay House 2 The Square Bristol BS1 6PN. The deadline to do this is 14 December.
2: The second is to take an active part in the appeal Inquiry which requires Rule 6 Status. See the Lambeth letter that explains a little more here.
'Arrangements for the Inquiry are currently being finalised by the Planning Inspectorate. These will include a pre-Inquiry conference call with the lead parties to deal with procedural and administrative matters, including how the evidence will be heard. As a Rule 6 party, it is anticipated that you would also be a part of that process. If, having read the above guidance, you wish to apply for Rule 6 status and/or have any related questions, you should contact the Planning Inspectorate immediately. If you are interested but are unable to access the guidance electronically, again, you should contact the Planning Inspectorate who will try and assist.'
The community triumphed the first time against tremendous odds, please encourage everyone you know to like and follow the campaign on social media @ScrapTheYard - everyone's support will definitely be needed.
More details on the next stage of the campaign to follow.
---

---
STOP PRESS!! 
New Public Protest
The campaign has just announced a second Public Protest.
This will be at 6pm, Tuesday 13 July on the steps of Lambeth Town Hall prior to the Planning Applications Committee Meeting.
Everyone is welcome - and please bring your banners!
Covid-19 restrictions will still be in play so please be exceptionally mindful of physical distancing and we would recommend mask wearing too. We want to be sure that no accusations can be placed on the campaign that we have been encouraging people to endanger their own, and other peoples, health. It only takes one photo ...
Thank you all for your tremendous support.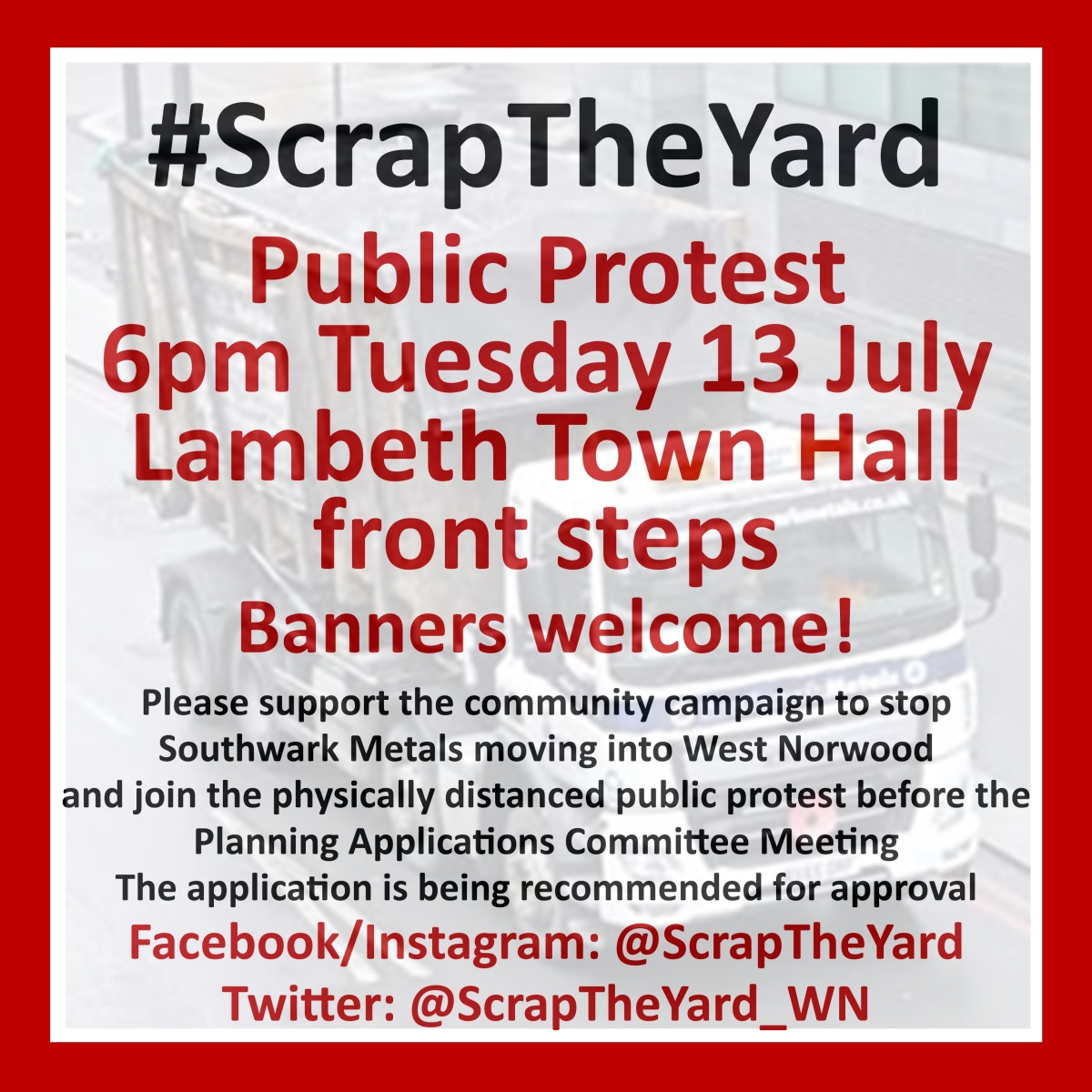 DEADLINE Thursday 8 July 12 noon
Written representations, including any letters, petitions or photos should be emailed to the case officer: Benjamin Oates BOates@lambeth.gov.uk.
The planning reference is: No: 20/01066/EIAFUL - Land Off Windsor Grove, Adjoining Railway At West Norwood London
#ScrapTheYard - new press release 6 July
Read (and share) our new press release here
Planning Application Committee (PAC) date now published: Tuesday 13 July, 7pm
It will be a single issue meeting, read all the details here
The #ScrapTheYard campaign is in the process of organising a response including the nominated speakers.
Our local MP, Helen Hayes is already confirmed.
Get involved and keep up-to-date on the campaign here: Facebook: @ScrapTheYard, Twitter: @ScrapTheYard_WN, Instagram @ScrapTheYard
Or if you want to be kept informed by email, then email us on: info@norwoodforum.org
Click on the letter below to read a larger version: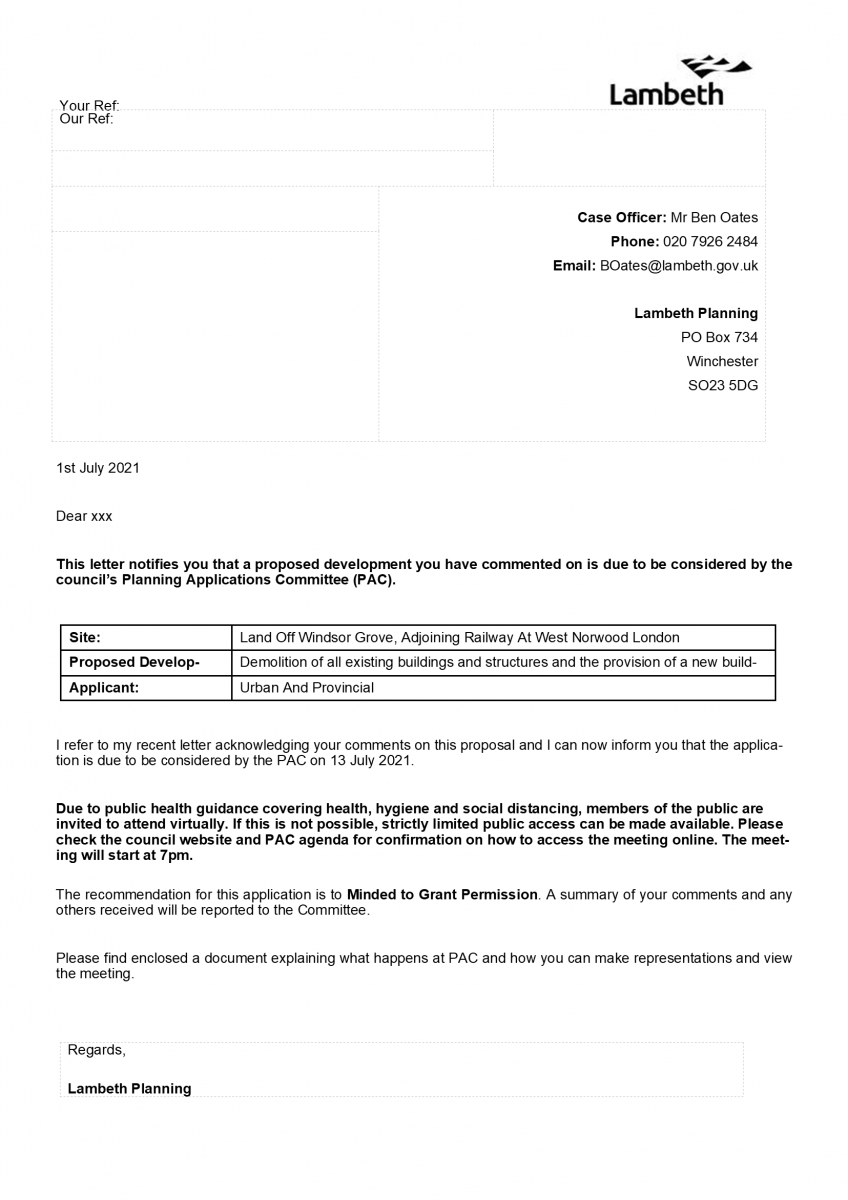 #ScrapTheYard and the fantastic community turnout at the public protest on Thursday 27 May outside the yard gates, with our local MP, Helen Hayes speaking.
Our thanks to Pete Williams for the video. Also find it on YouTube here
Helen Hayes, MP for Dulwich and West Norwood
"Windsor Grove is a completely unacceptable location for a large metal recycling facility, which would bring more than 100 trucks a day down this narrow cul-de-sac. 
"I have written to Lambeth Council with all of the Labour ward councillors on behalf of local residents to object in the strongest possible terms. 
"This application must be rejected."
www.helenhayes.org.uk
Councillor Jane Pickard
"This proposal still poses a threat to pollution and road safety in the roads round the site, despite Southwark Metals saying it would reduce tonnage.
"There would still be at least 53 heavy goods vehicle movements a day according to the company's own estimates which may be on the low side. That is too much for a residential area with fairly narrow streets, lined on both sides by parked cars, and used by hundreds of school children. In addition, there would be 103 vehicle movements by cars and vans.
"The council has declared a climate emergency and wants to reduce pollution, not increase it. Allowing this development to go ahead would be disastrous."
Labour councillor - Knights Hill Ward (London Borough of Lambeth)
https://moderngov.lambeth.gov.uk/mgUserInfo.aspx?UID=2903
Councillor Fred Cowell
"This application needs to be opposed. Speaking to planning officers they have made it clear there are no safeguards against large lorries going through West Norwood. Hour on hour of oversized vehicles polluting the area and congesting the streets."
Labour & Co-operative Councillor - Thurlow Park Ward (London Borough of Lambeth)
https://moderngov.lambeth.gov.uk/mgUserInfo.aspx?UID=8914
Rob Andrew, Norwood Action Group
"In the face of fierce local opposition, this  year‑old application that Lambeth was set to refuse last August has been scaled down. Southwark Metals hope to snatch victory from the jaws of defeat by now saying daily vehicle movements would 'only' be about 150, and annual tonnage 'only' 25,000. This looks like it could win Lambeth over. We need your help, please object to Lambeth Council.
"If you were one of the 1,464 people who made an objection to Lambeth in the earlier round, it's vital you do so again. Make clear that the lower figures are still an outrageous proposal. The plan impacts the entire borough, dragging most of the scrap carriers through the whole length of Lambeth. Everything about this planning application is plainly wrong."
www.norwoodactiongroup.org
#ScrapTheYard - STOP PRESS 26.05.21: Read our new press release here
For further information about the campaign, please contact: 
Rob Andrew at Norwood Action Group - info@norwoodactiongroup.org / jrandrew@talktalk.net
For media queries, please contact:
Claire Felstead - clairefelstead@yahoo.co.uk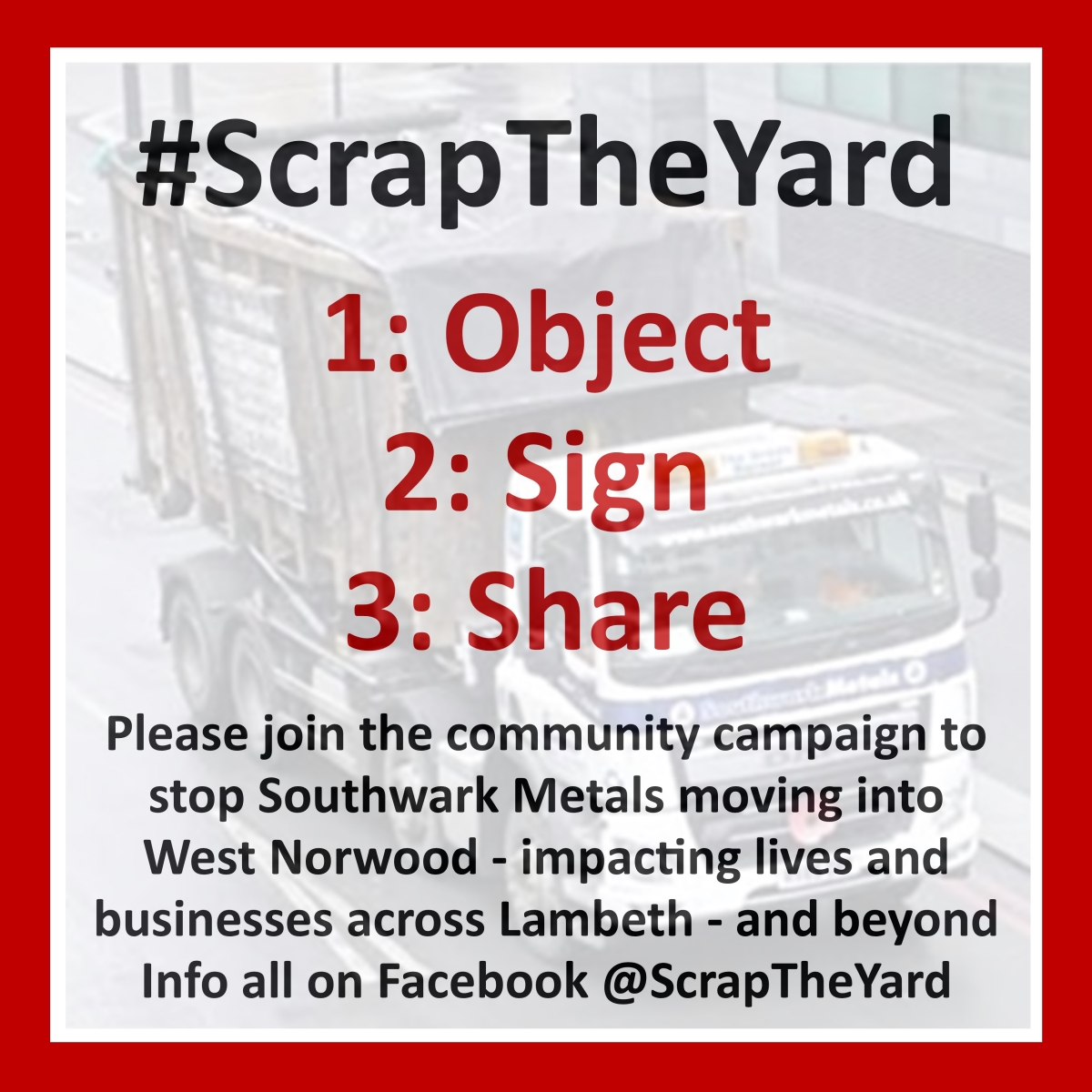 #ScrapTheYard is a grass roots community campaign to prevent Southwark Metals from moving to Windsor Grove in West Norwood.
Please see our flyer below for why this is so important.
And please use the campaign hashtag at every opportunity #ScrapTheYard
How can you help?
1: OBJECT #ScrapTheYard: Tell Lambeth you reject the plan, AGAIN!
This is important otherwise Lambeth may think we're happy with the reduced plans. Act now, the decision could be soon.
Go to planning.lambeth.gov.uk/online-applications. Search 20/01066 – two will show – choose the one: 'Land off Windsor Grove', and follow the instructions on the Comments tab.
2: SIGN #ScrapTheYard Sign the grass-roots petition (only once is possible): Click here
All thanks to local resident Carmen Sandilands, who set this up over 18months ago.
3: SHARE #ScrapTheYard Spread the Word any way you can
Ask loads of friends, neighbours, school parents and staff to join in. People Power will win through. Link to this Facebook page using @ScrapTheYard - and always use the hashtag #ScrapTheYard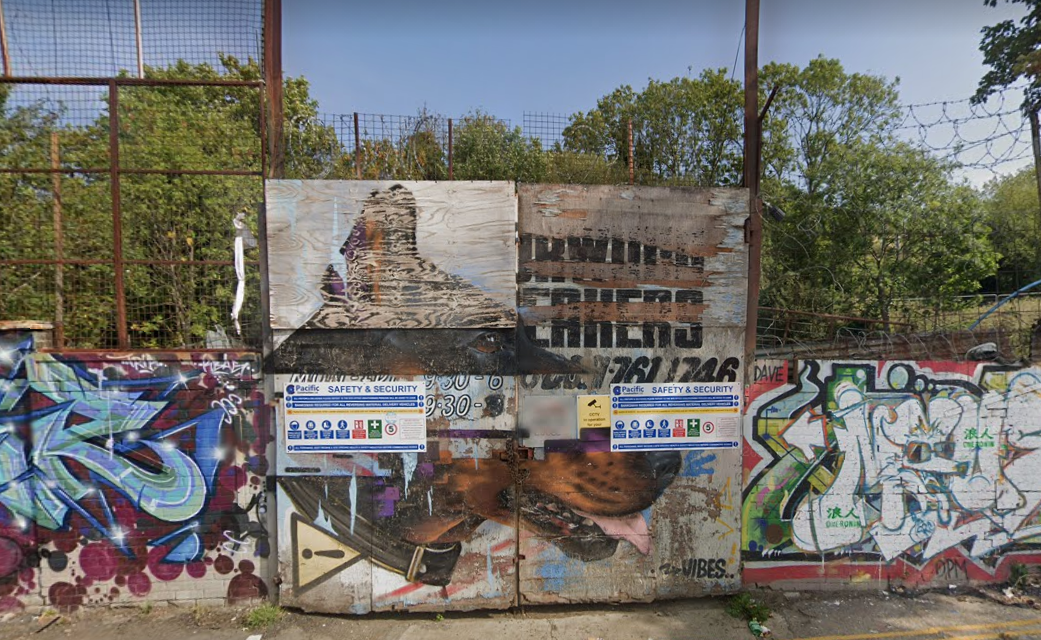 4: DEMONSTRATE #ScrapTheYard Huge thanks to all the amazing people who turned out for the public protest outside the yard gates yesterday (Thursday 27 May). See the fantastic video of the speech made by our local MP Helen Hayes at the top of this page.
Are you on social media?
Follow, like, share the campaign on Facebook: @ScrapTheYard, Twitter: @ScrapTheYard_WN, Instagram @ScrapTheYard
More info
Our flyer has lots more info, click to enlarge/copy/save/share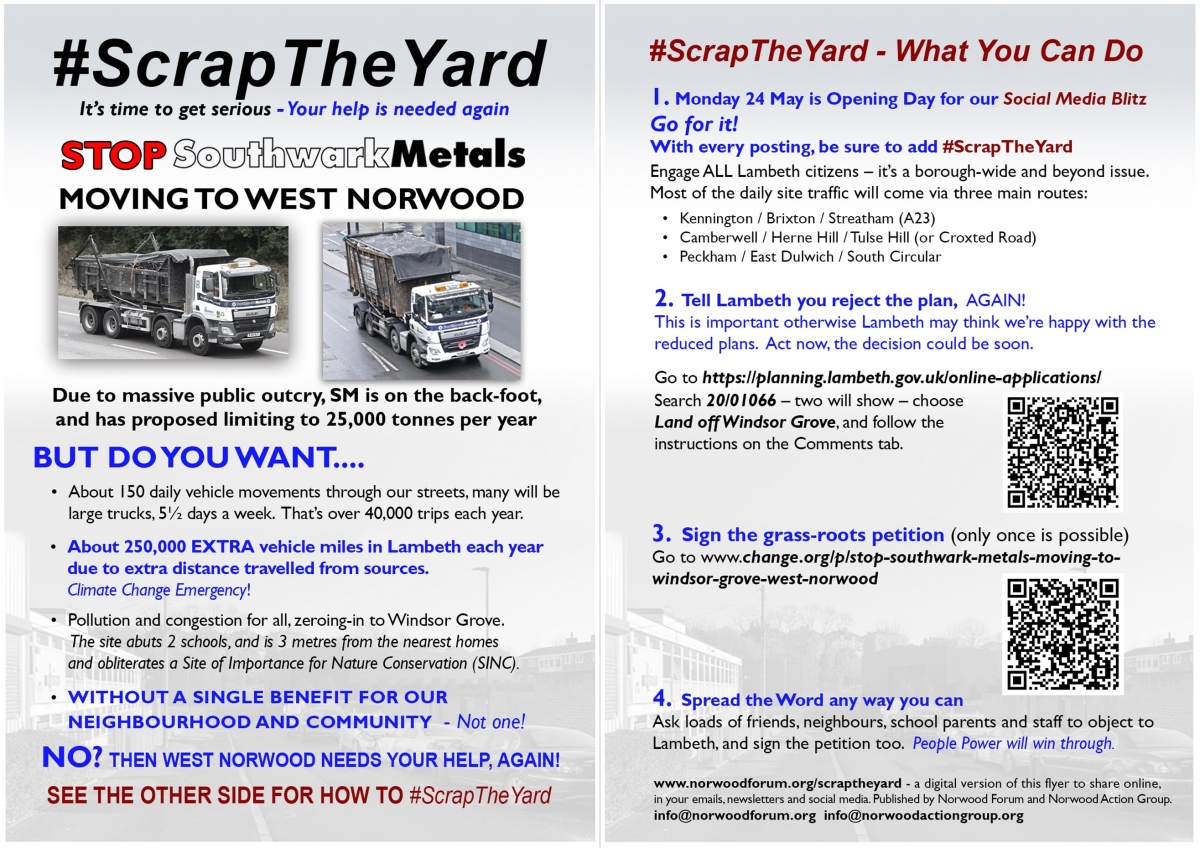 Our map shows the routes that will be affected, click to enlarge/copy/save/share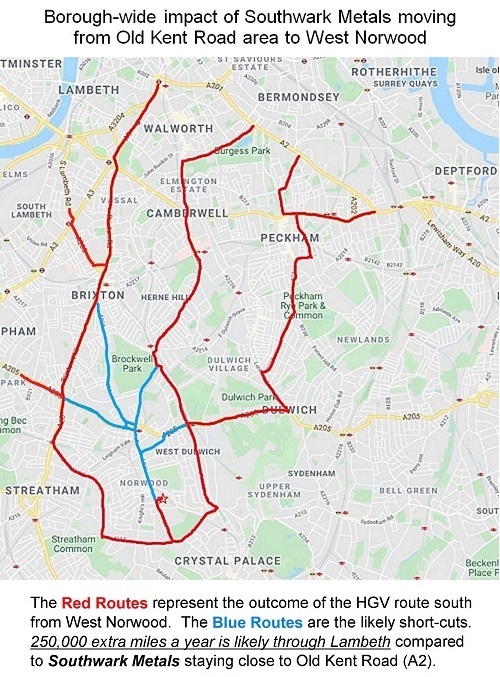 #ScrapTheYard Mass Email Campaign
Monday 21 June - download the details here if you would like to take part
Wednesday 23 June - download the details here if you would like to take part
Friday 25 June - download the details here if you would like to take part