Labour increased its large majority on Lambeth Council by one seat at the 5 May 2022 elections: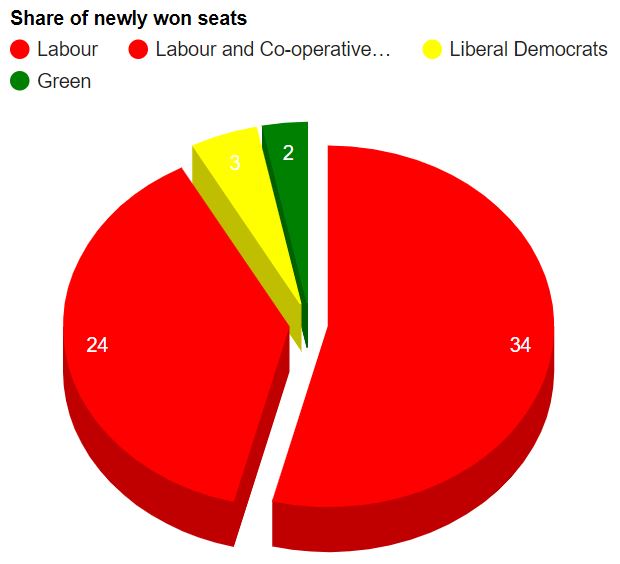 You can read the full results here
The four local wards of Gipsy Hill (two councillors), Knight's Hill (three councillors), St. Martin's (two councillors) and West Dulwich (two councillors) all returned a complete slate of Labour councillors. The borough-wide turnout was slightly down on the last local election at 32% (Lambeth has not published online the individual ward turnouts).  
In our area four 2018-22 Councillors stood for re-election and Labour Councillors Fred Cowell (West Dulwich), Jackie Meldrum and Sonia Winifred (both Knight's Hill) were all returned, with Councillor Pete Elliott (Green) being narrowly defeated in Gipsy Hill. This all means six of our nine councillors are new; these include our very own committee member Ibtisam Adem. Our nine councillors in the south-east corner of the borough represent some 15% of the Labour Group of 58 councillors. You can read the local ward election details here:
Gipsy Hill
Knight's Hill
St. Martin's
West Dulwich
And find all our local councillors here, along with their Lambeth emails.
Our thanks to everyone who submitted questions and attended our three hustings meetings in West Dulwich, Knight's Hill and Gipsy Hill wards, and especially to those candidates who were prepared to turn up, answer questions from their potential constituents and debate local issues. The last word of thanks must go to our excellent hustings Chairs:
West Dulwich: Keith Edmonson, Aspire Centre manager
Knight's Hill: Rev. Donald Davis, St. Luke's Church
Gipsy Hill: Jonathan Croucher, Vicar, Christ Church and Area Dean of South Lambeth
Finally a couple of notes of observation from us. The "first past the post" voting system has thrown up some interesting disparities between % of the total vote achieved and the overall seats won: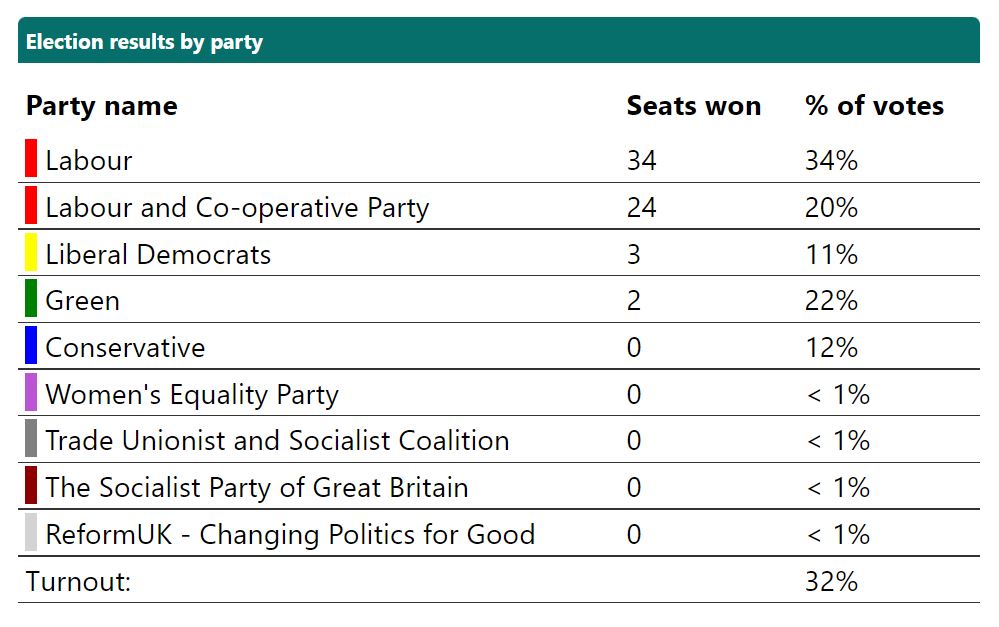 Lastly, we hope the new council will take the fresh opportunity to reach out to, seek to persuade and consult its electorate as appropriate, and not seek to impose top down change without public involvement. The hustings have shown that our councillors are committed to addressing the Council's plans for sites 18 & 19 and we look forward to working with them on this and all other issues that concern our local community.