This week:
Rathbone Youth Club - learning mentors
Age UK – phone friends
Home Start Lambeth – family volunteers
Get Set UK – mental health first aiders
Rathbone Youth Club - learning mentors
Rathbone works with disadvantaged young people who are struggling at school and need extra support with their learning. They are looking for volunteers who can commit an hour a week for at least six months to help a student – between Y7 and Y11– with their homework and/or revision in one subject, for example English (many students come from households where English is not the first language), Maths, History or Science. Study support sessions are online, with a parent or guardian on site with the child, usually outside school hours. The current pandemic has put additional pressure on the lives and education of the young people. If you could spare an hour a week to help a child keep up with their learning, Rathbone Youth Centre would like to hear from you.
Age UK – phone friends
Age UK Lambeth is an independent local charity working in Lambeth to offer support and services to older people. Even as Covid lockdown eases slowly, Age UK are still actively recruiting for volunteers. Whether you would like to volunteer to have a 'phone friend' and be matched with an elderly member of the community to have a weekly conversation that will help and reduce isolation and loneliness, or you have some extra time and would like to help elderly members of the community who may be struggling to get out - however you may able to help, they would love to hear from you.
Home Start Lambeth – family volunteers
Do you have parenting or childcare experience and skills? Home-Start Lambeth volunteers provide support, friendship and practical help to families with at least one child under five who are experiencing difficulties. They are reaching out for volunteers who can give about an hour per week for six months minimum (times can be flexible to suit both you and the family you are supporting). Volunteers will:
offer support tailored to the needs of the families over the phone, via Zoom and/or via socially distanced meet ups
build a supportive relationship with the family in which the challenges of family life can be discussed, positive strategies encouraged, and also encourage parents' strengths and emotional well-being so they can best support their children
encourage families to widen their network of relationships and to use the support and services available in the community effectively.
You'll need to be able to be reliable, a good listener, and maintain confidentiality while recognising that there may be situations when disclosure is essential to the welfare of a child. Training will be provided online. Your own experiences and skills can help another family more than you could imagine – Home Start would love to hear from you.
Get Set UK – mental health first aiders
Get Set UK deliver services in employability and skills to a wide range of job seekers. They are offering free four-day courses designed to teach people how to spot the signs and symptoms of mental ill health.
Mental Health First Aid MHFA training is the mental health equivalent of a physical first aid course. It wiil not teach you to be a therapist, but it will teach you to listen, reassure and respond, even in a crisis – and even potentially stop a crisis from happening. Training in mental health first aid will give you an understanding of how to support positive wellbeing and tackle stigma in the world around you. You will learn to recognise warning signs of mental ill health and develop the skills and confidence to approach and support someone while keeping yourself safe, as well as how to empower someone to access the support they might need for recovery or successful management of symptoms
To be eligible you need to be over 19, live in Lambeth and be currently unemployed.
The next four-day courses run 12 - 16 April, 19 - 22 April, 11 - 14 May, and 17 - 21 May; to register please mailto:getsettraining@getsetuk.co.uk.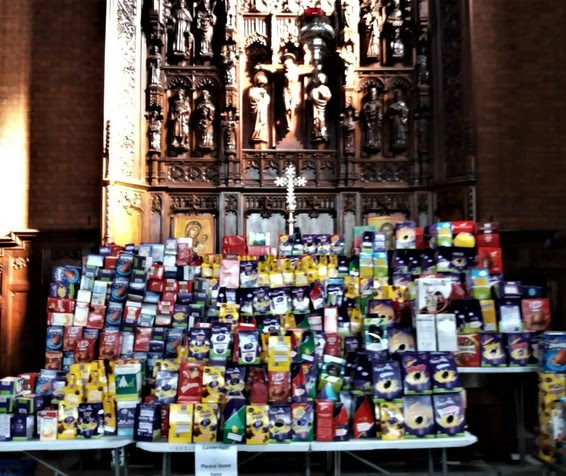 Pic.: West Norwood & Brixton Foodbank will include an Easter egg in every food parcel over the Easter weekend.