It is good to see the progress made since the summer with the drainage and path works in West Norwood Cemetery. These civil engineering works are the initial works on the ground under the Heritage Lottery Fund programme (see our previous story here), along with some restoration of protected monuments (see below).
New drains and kerbs have been installed and the hardcore laid along the 400 metre plus length of the St. Mary at Hill Path. A large tank has been installed below the surface at the junction of this path and Lower Road; this will collect and gradually release rainwater from this area of the Cemetery. Footings have also been installed for two benches along the path. The light brown/grey tarmac will be laid shortly and this section of path then reopened.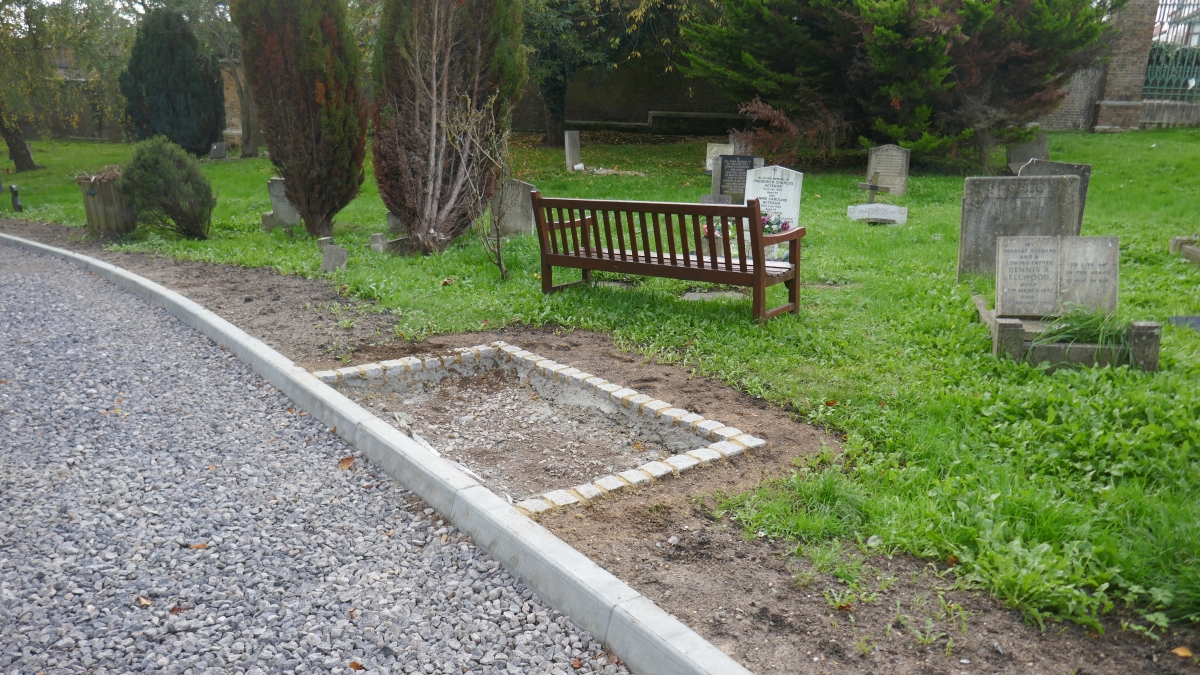 Work is also close to completion along Doulton Path – the gravel top layer here will also be installed within a couple of weeks and the path reopened. At Beaton Path, a new grass surface with layers of plastic reinforcement has already been installed, and this will be reopened for use as soon as this has bedded in.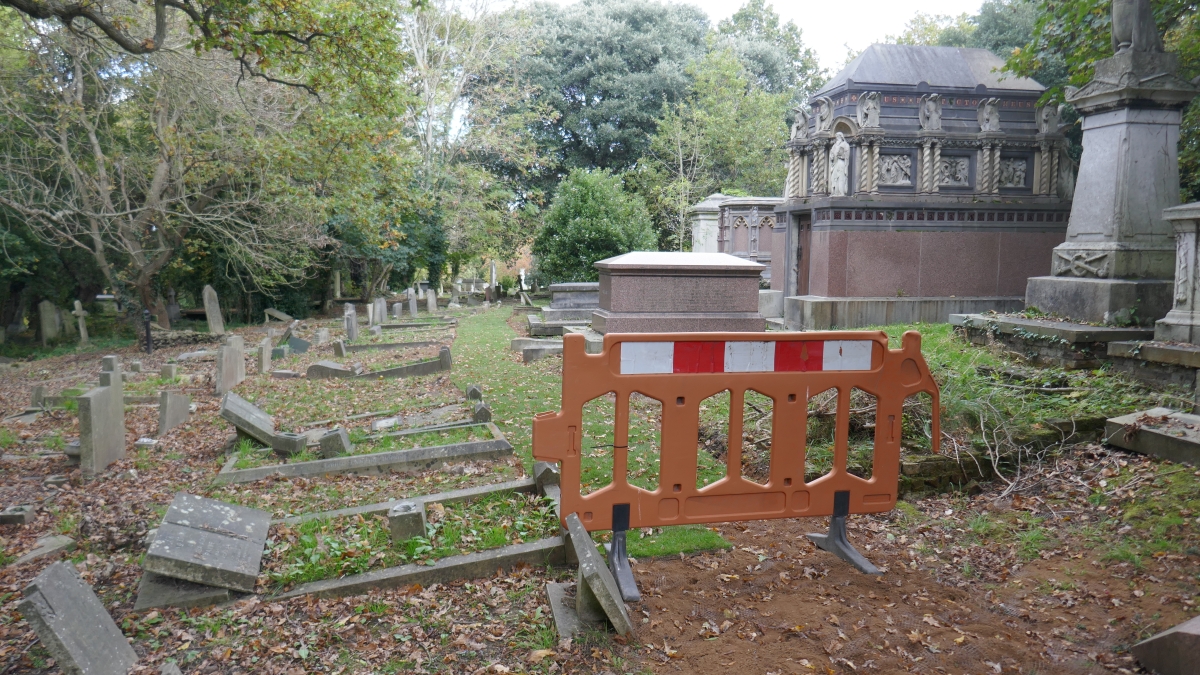 A new path has been installed from Lower Road along the side and then around the back of the Rose Garden to what will be the site of the new Robson Road entrance.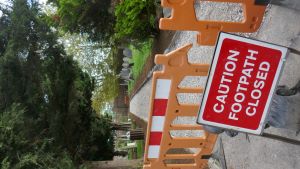 The new foundations for the main path at the Greek Cemetery have also been laid.
Works have also started on restoring two Grade II listed historic monuments. In dismantling the William C Auffray (1843-1893) and Edith O'Gorman (Mrs Auffray-1842-1929) "Escaped Nun" monument, it was found there were no ties holding the various sections together and cracking to the plaque was evident. The new concrete foundation has been laid and is now curing, and the supporting brickwork is now being installed before work begins on reconstruction of the monument.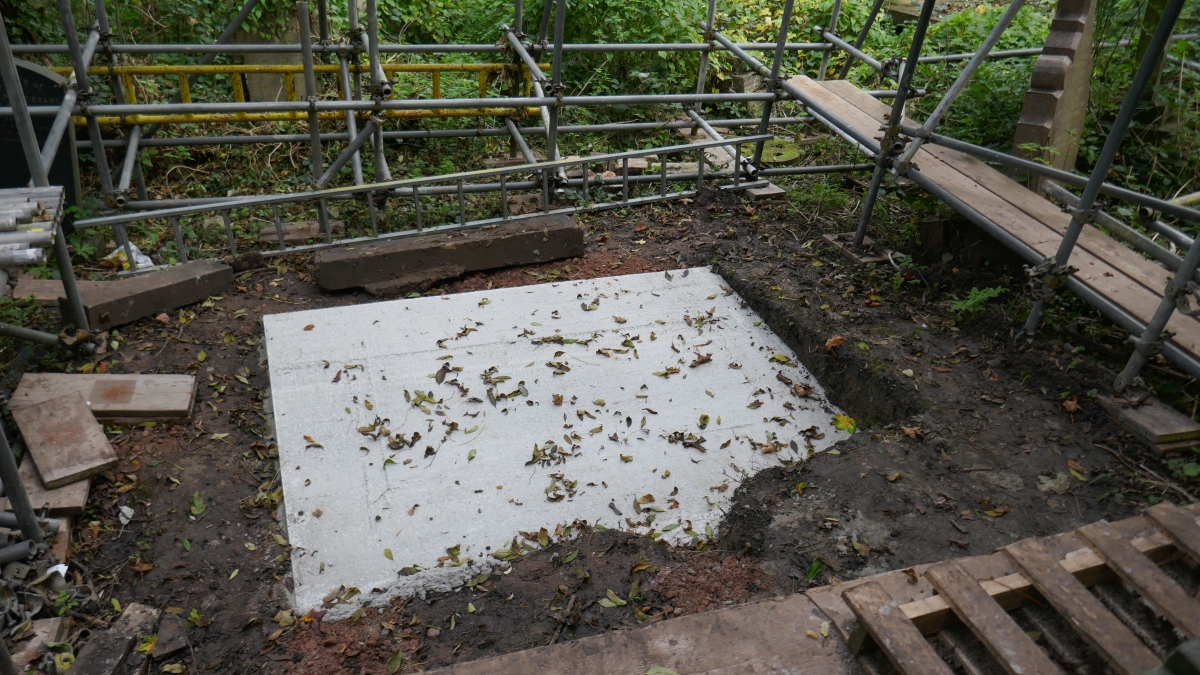 An outline of the interesting story on the couple can be read in the Friends of West Norwood Cemetery newsletter #5 here on the Friends website, and a number of other articles can be found on the internet.
The terracotta James Baldwin Brown monument has also been dismantled prior to the necessary underpinning, and the top of the monument is stored securely awaiting its refitting. James Baldwin Brown (1820–1884) was a British Congregational minister from 1870 at the then newly constructed Brixton Independent Chapel on Brixton Road, Again a number of articles on his life can be found on the internet.
You can read more about the National Heritage Lottery Funded project ''West Norwood Cemetery: A New Beginning'' here, and in our previous news articles (use the search button on our home page).
To read about the next phase of the works, see our next article, also published today.