Help & Advice
Community COVID19 Mutual Aid Groups
These groups are made up of local people volunteering to support those in our community who have to self-isolate or are worried about going out. If you are not sure which group to contact, please ask the Forum: info@norwoodforum.org and we can quickly help you make contact with the right one. The Forum is supporting all of them.
Not sure which Ward you live in? Click here and enter your post code.
Knights Hill Ward:
W Norwood CV Mutual Aid (WhatsApp) formed by local residents Emma, Keira and Steve. There are over 600 volunteers now, divided up into local area sub-groups. They offer non-medical support, including:
picking up shopping/medication

making a friendly phone call

posting mail

delivering urgent supplies, and 

helping sort out pre-paid gas/electric top ups
to those unable or too worried to leave their home.
If you know someone that needs support please ask them to email wnorwoodc19aid@gmail.com; or call

Emma: 07854 827783, 

Keira: 07401 522438 or Steve: 07988 432151. 
If you would like to volunteer with the group, please send an email to wnorwoodc19aid@gmail.com including these details: Name, Address, Contact number, Email address, Availability, Access to a car, Languages.
The leaflet below has been delivered to all local households throughout the ward. If you did not receive one, the information on how to contact the group is clearly shown above, or click on the image below to link to a larger version.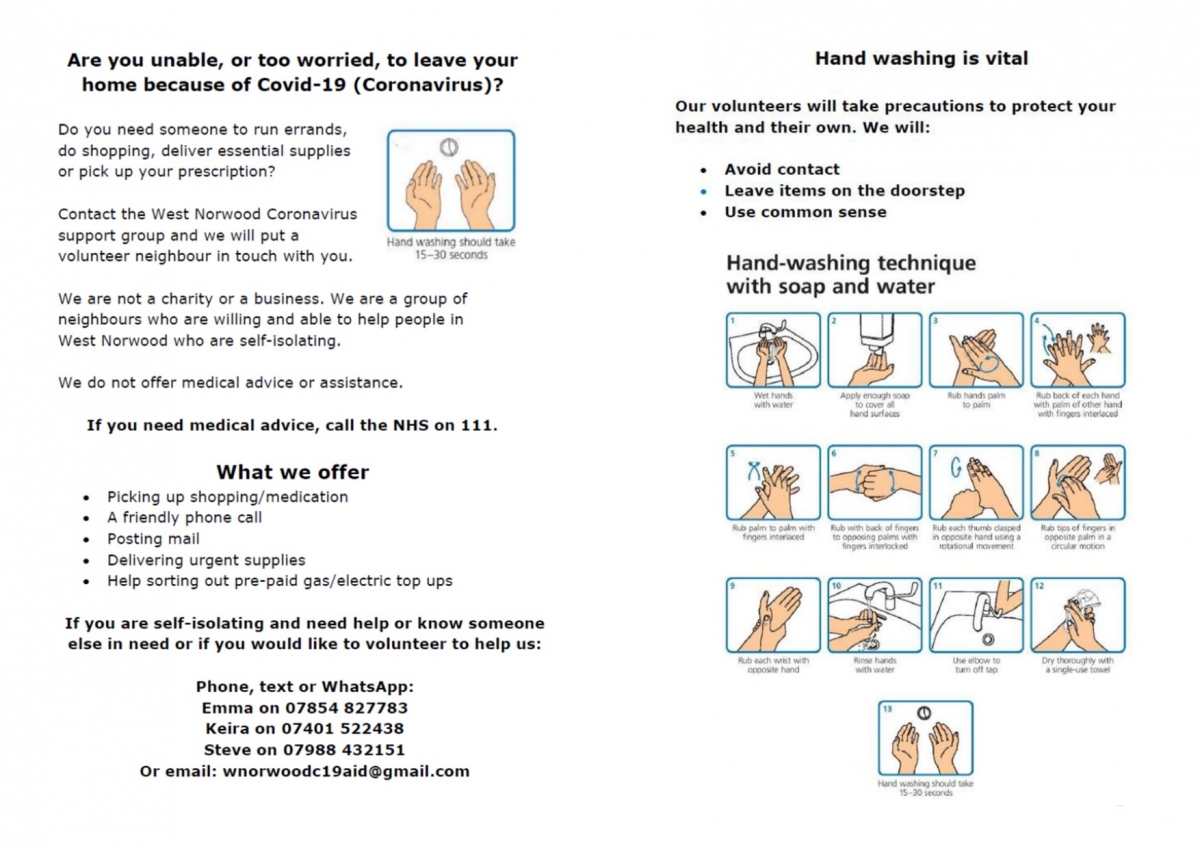 Thurlow Park Ward:
If you want to volunteer or ask for assistance these are the contact details:
WhatsApp: Thurlow Park CV support, here is the link to join.   .
Email: thurlowparkCV19aid@gmail.com
Phone: 020 8678 1539, 07988 864306, 07944 296256, 07854 046604.
Gipsy Hill Ward:
Currently being leafleted door to door by the WNorwood and Crystal Place COVID19 groups. 
Friends of Gipsy Hill have an extensive resource on their website: gipsyhillfriends.org/covid19/
There is also plenty of community activity on the Friends of Gipsy Hill Facebook page
And in general:
There is a 'master' Lambeth group which is acting as a 'home' for all of the Lambeth groups, enabling expertise and information to be shared. WhatsApp: Lambeth Volunteers.
Wherever you live in Lambeth, you can find your Mutual Aid group on this spreadsheet. 
There is also this easy to use map, but please don't assume either of these are comprehensive as new groups are being set up all the time. Our recommendation is to use Google, Facebook and WhatsApp to check if there is a group in your area before starting one up yourself. All the groups are talking to each other, sharing expertise and advice. GDPR and keeping everyone as safe from the virus as possible are all being covered.
---
NHS Volunteer Responders
The NHS is "rallying the troops" for the war on coronavirus, with volunteers are being called up to help vulnerable people stay safe and well at home. The nation is looking for up to 250,000 volunteers to help up to 1.5 million people who have been asked to shield themselves from coronavirus because of underlying health conditions.
Members of the public can sign up quickly and easily at goodsamapp.org/NHS to become NHS Volunteer Responders, and can be called on to do simple but vital tasks such as:
delivering medicines from pharmacies;
driving patients to appointments;
bringing them home from hospital;
or making regular phone calls to check on people isolating at home.
---
Lambeth Council support available to you or vulnerable people you know
Lambeth Council is working closely with local NHS partners and the community and voluntary sector to ensure that vulnerable people and community organisations are able to access support when they need it. A helpline is available for people in Lambeth who are having difficulties due to coronavirus. You or someone acting on your behalf can call the helpline to get advice on issues you are having, including access to medicines and food. The call handler will help you to connect with the right department in the council or to other organisations, such as Age UK, who can help you get support.
Volunteer: If you would like to register to volunteer and support your local community, read the volunteer section here and complete the registration form.
Vulnerable Help Line: 020 7926 2999, open 8am - 8pm everyday.
More information can be found on the Lambeth website here.
---
Scams
The Metropolitan Police have received reports of people knocking on doors and demanding money for a coronavirus test. There are also reports of Police imposters. Dial 999 if you experience any of this. See also news story here.