Welcome!
Its 2019, and its our very own Norwood Year of Culture!
Want to know whats going on? Want to be involved? To get the latest news, email #NYOC19 here.
Do you love yoga, orienteering, bird watching, disco dancing, vinyl records, painting, swimming, hiking, writing, hoovering, making bread, making beds, making music, make-up, shopping, crafting, hula-hooping, running - or just plain having fun with your family. Tell us what you love to do here - and send us a photo too!
Our Year of Culture will help you find more lovely things to do - more of what you already enjoy, and maybe introduce you to something new too. Maybe you have always wanted to run an activity? Maybe you are looking for some training, some colleagues, some inspiration? Tell the #NYOC19. Our sole purpose is to help our community join up more of the dots. To reach into the corners of our neighbourhood and shine a light on all the great things that are happening out there and to help people make the connections they are looking for.
Heres what some of you have told us already: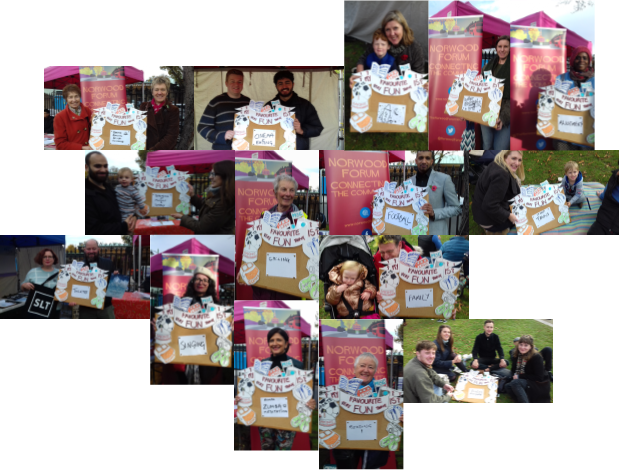 ---
So what is this all about?
Inspired by Hull UK City of Culture in 2017, and this year's inaugural London Borough of Culture just launched in Waltham Forest, the Forum is proposing our very own Norwood Year of Culture 2019.
You already know that West Norwood has an emerging cultural quarter and the re-opening of the Library with the addition of the Picturehouse Cinema has really pulled that into focus. Nevertheless, we know that this Hub and what goes on within it reaches only a limited proportion of the community within the three Wards that the Forum covers: Thurlow Park, Knights Hill and Gipsy Hill. Whether it's lack of information or another barrier to participating, we believe this wonderful development in our community could provide a springboard for something much greater.
The idea behind a Year of Culture is a simple one - to join up more of the dots for all our community - to discover what is happening around the whole of Norwood, to add an extra level of promotion to what is already happening - and ultimately to even act as an incubator for new activities. Then we have an ambitious legacy plan to write a Cultural Strategy ... more on this later.
How can you get involved?
Tell us what's happening in your neighbourhood. Whether it's a karate or pottery class, an age specific workshop in using social media, a community fundraiser, an outdoor film screening, a guided walk or cycle ride, a jumble sale, a training event - anything that is open to community involvement and participation – free or ticketed. The Forum will work hard to raise the profile of the event, to put you in touch with others doing similar, and generally help make you as connected as possible – and, we will provide you with a Norwood Year of Culture 2019 logo to brand your event.
Our definition of Culture is broad and inclusive: sport, leisure and physical activities as well as the 'arts'. The focus above all is on what people do in their spare time – and want to do – and we will work hard to join up as many of these dots as we can. At the November Feast we started finding out what people's most favourite leisure time activity is – see the video at the top - and will continue to do this throughout 2019.
Tell us what you love to do here: I love to ...