Earlier than expected - though with notice - the Local Government Boundary Commission for England has announced its final recommendations to reconfigure the boundaries of Lambeth's wards.
'Today we published our final recommendations for future electoral arrangements for Lambeth Borough Council.
We are proposing that Lambeth Borough Council should have 63 councillors.
Those councillors should represent thirteen three-councillor wards and twelve two-councillor wards across the borough. 
We are also proposing that the boundaries of all existing wards should change, none will say the same.
We have now completed our electoral review of Lambeth Borough Council.
We are extremely grateful to the people of Lambeth who took the time and effort to send us their views.
We considered every piece of evidence we received before finalising our recommendations.'
'The changes we have proposed must now be approved by Parliament.
A draft Order - the legal document which brings into force our recommendations - will now be laid before Parliament.
The draft Order will provide for new electoral arrangements for Lambeth Borough Council to be implemented at the local elections in 2022.'
New Map
Report Summary
Full Report
Here are the existing and new ward maps for our neighbourhood. You will see we are moving from 3 wards to 4 wards: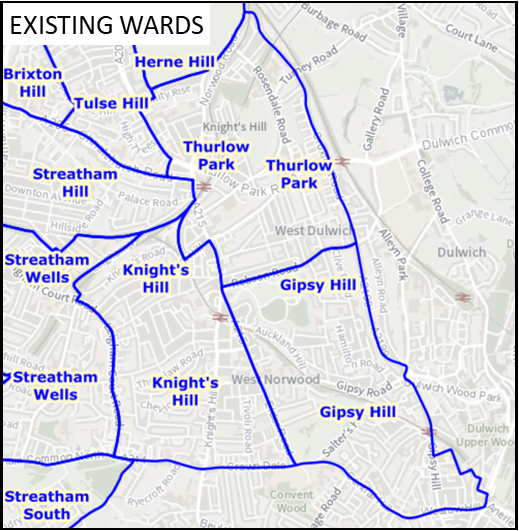 Why is this happening?
The Commission review the ward boundaries across all of England on a kind of rota basis, to take into account population movement and growth to ensure each ward holds roughly the same number of voters. Now it is Lambeth's turn. There have been a number of stages to reach this point including several public consultations which Norwood Forum promoted, took part in, consulted and made several submissions.
Norwood Forum will be talking to our local councillors to understand what the implications will be for our neighbourhood. Local elections will be happening in May 2022 and that is when the new arrangings will come into being.
Constituency Boundary review
And not to confuse our local wards and our local councillors with the coincidentally timed Constituency Boundary review - reviewing for the same reasons as above, the boundaries of the areas served by our MP's. See our story here about this.