until Wednesday, December 23, 2022
This is a fantastic 2 in1 programme that provides a platform for your children to have a safe place to go, whilst engaging in physical and hidden mentoring football activities. 
For your 7 to 14 years olds, they will engage in fun and developmental football activities that will stretch their learning in football abilities. They will also be lunch time quizzes and peer-to-peer learning through discussion on health food and nutrition. Both of these provide a platform for your children to development their football skills, understanding of football and a range of personal and social skills such as teamwork, communication, resilience and confidence.
For your 15 and 16 year-olds there is an opportunity to engage in work experience where they support and lead on sessions, organise equipment and sessions, and meet and greet children and parents. They will therefore develop key transferable life skills and social skills such as self-management, Time management, responsibility, other leadership skills, resilience, confidence and assertive skills.
Additional information
Come and be part of a wonderful experience. A programme full of fun where you will learn a lot of football skills and meet new friends. You will engage in fun football games, fun lunch time quizzes and learn how to do new tricks through our starter challenges. Of course you will play lots of football matches and get the opportunity to win a trophy if you earn the most points during the programme for being a great team player helping others and being resilient to meet challenges!
Supporting people with
 Attention Deficit Hyperactivity Disorder (ADHD)
 Emotional Needs
When: 19 - 23 December 2022
Where: Rosendale Playing Fields, Rosendale Road, London, SE21 8LW
Email: lionel.best@bigcic.org
Website: www.bigcic.org/big-winter-2022-footbal-programme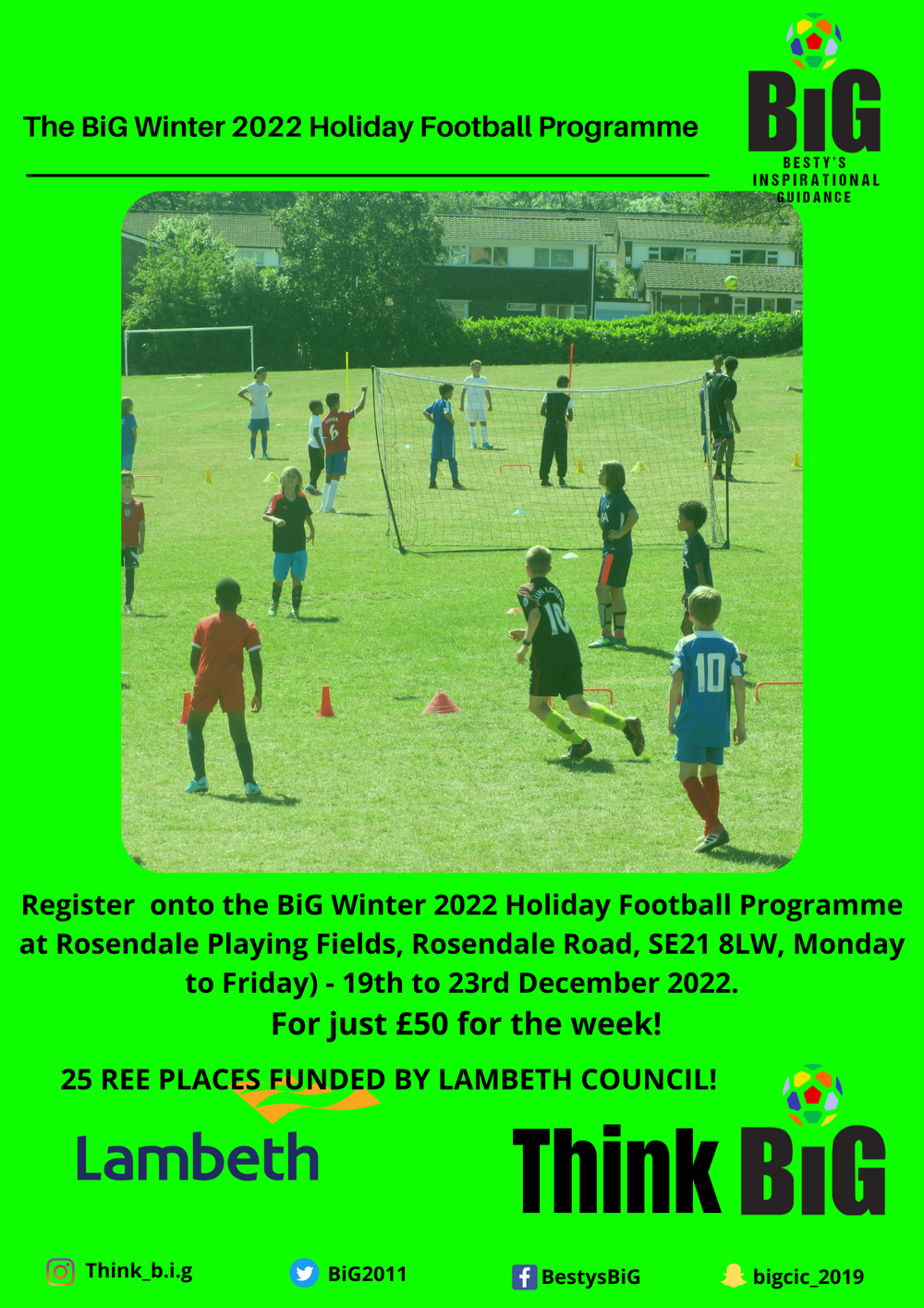 event date:
Monday, December 19, 2022