Sadly Wild Norwood is all over for another year ...
But you can relive our Wild Norwood Live! by watching our video below - and collages of everyones lovely window displays will follow.
Watch this space (meaning please sign up for our newsletter here, if you don't receive it already) for dates and info on our 2023 festival.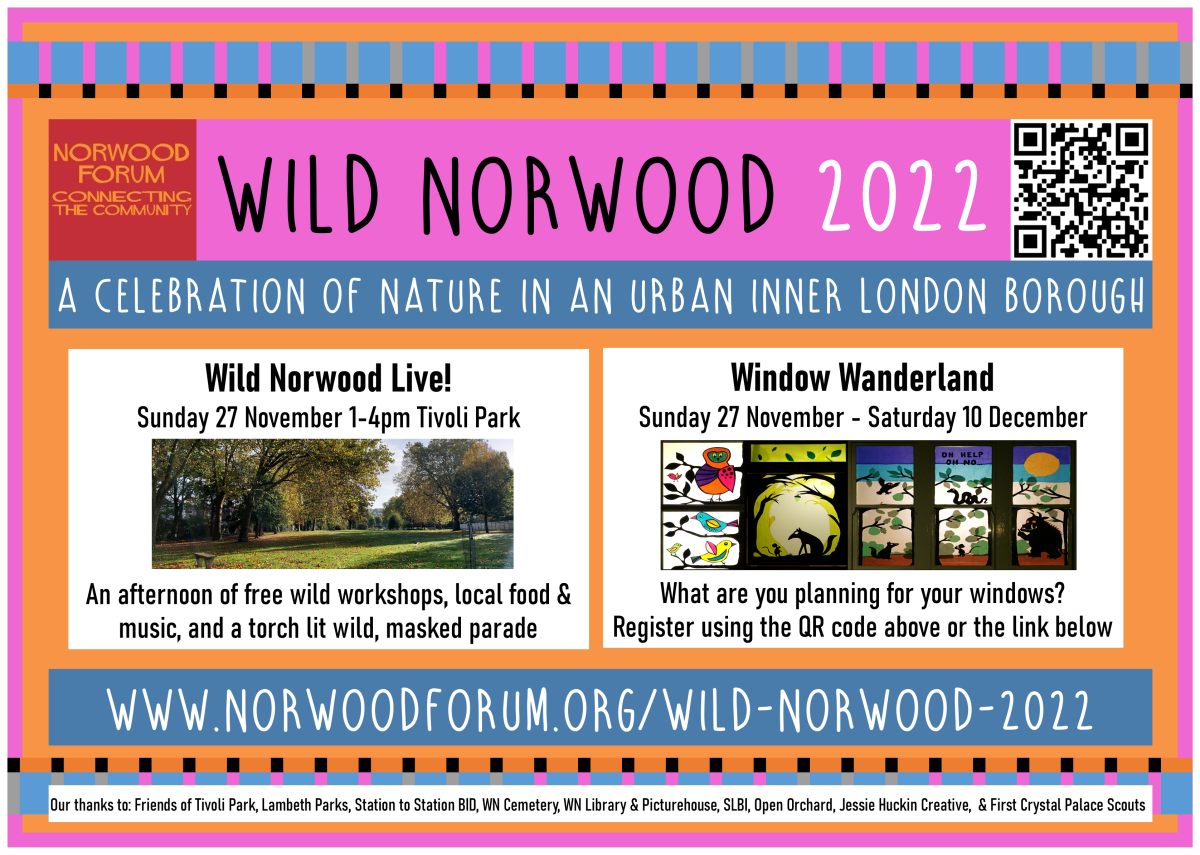 Welcome to Wild Norwood 2022! 
Sunday 27 November - Saturday 10 December 2022
Wild Norwood is a celebration of nature in an urban inner London borough - and this year Wild Norwood also goes Live!
Wild Norwood dates for your diaries:
1. Window Wanderland
Sunday 27 November - Saturday 10 December 6pm-9pm, every day all around our neighbourhood - and promotion till at least Sunday 18 December
The window map is open to register your window. This is completely FREE to take part in - but please do register your window so other people know where to see it. Find the map here (and for more info as well as inspiration for your own window display, please scroll down)
2. NEW Wild Norwood Live
Sunday 27 November 1pm-4pm, Tivoli Park (at the top of Knights Hill)
Join us for our brand new festival launch event; an afternoon of wild fun in where there will be FREE wild workshops to join in with (South London Botanical Institute, Open Orchard, Nature Vibezzz and Movers & Makers amongst others), live music, local food and a final torch lit parade around the Park with masks and banners - bring your own, or make them in one of the workshops. We will have marquees so we will be dry even if the weather is not kind.
Our huges thanks to Friends of Tivoli Park for hosting us and to Jessie Huckin Creative for co-designing the Wild Norwood Live programme.
3. Glowing Garden
Thursday 8 December, 6pm-8pm, South London Botanical Institute, 323 Norwood Rd, SE24 9AQ
SLBI are holding their unique and beautiful event again this year. Enjoy a relaxing wander through their fairylit garden with a warming glass of mulled wine or juice. They also hope to have live music! Its a lovely way to spend a December evening in nature and to support the SLBI as they continue their work bringing botanical education to people of all ages and backgrounds. Their garden stall will also be selling a selection of gifts, including gift SLBI membership! And ... their windows will be illuminated as part of Wild Norwood!
This is a ticketed SLBI event, visit their website for details here.
4. Magical Lantern Walk
Saturday 10 December, 5pm-6.30pm, meet outside West Norwood Library and Picturehouse, 1-5 Norwood High St, SE27 9JX
Open Orchard return to celebrate the last evening of Wild Norwood 2022 with their magical lantern walk. This is a guided walk around the streets of West Norwood and Tulse Hill visiting many of the Window Wanderland window displays in shops and local businesses as well as peoples own front windows. We will end at South London Botanical Institute. Please bring your beautiful self-made lanterns along. This is a completely FREE event and everybody is welcome.
Open Orchard Project have led a similar walk for Wild Norwood in previous years - remind yourselves how to make your own lanterns here (and dont get confused with the 2020 date!)
Open Orchard connects locals through the planting of trees and fruit trees in public places. They strive to engage local residents in the planting and ongoing care of trees and provide them with free fruit while enhancing the biodiversity in our urban environment. 
5. Seeds and Berries Winter Discovery Trail
Sunday 27 November - Saturday 10 December 6pm-9pm, every day along Norwood Road, Knights Hill and Norwood High Street
Going to the local shops, libary or cinema?
When you are out and about at the shops and library or at the cinema, keep an eye out for the trail of seeds and berries - acorns, holly and mistletoe berries, ivy, sycamore and thistle in local shop and cafe windows. These are all local plants that you can find in the cemetery right now.
Follow the trail to the large scale window display in the West Norwood Cemetery Lodge to the big windows in West Norwood Library and Picturehouse.
Our huge thanks to Station to Station BID, West Norwood Cemetery and West Norwood Picturehouse, as well as all the local businesses who are taking part. 
A map showing all these local businesses can be found here, when the festival launches on 27 November.
Remember to #ShopLocal this Christmas!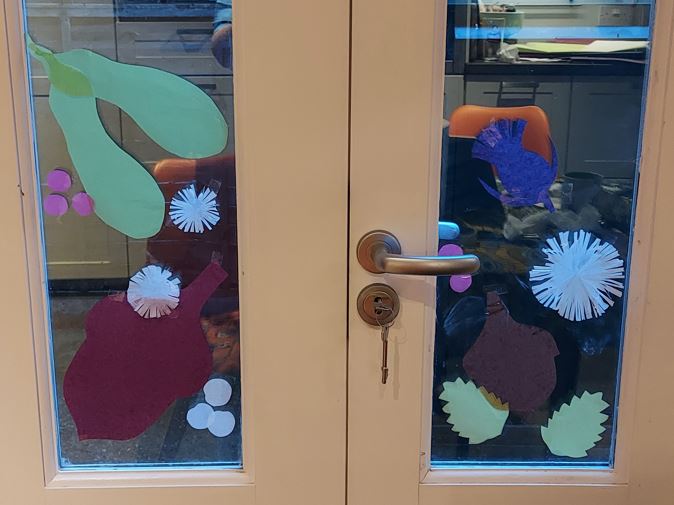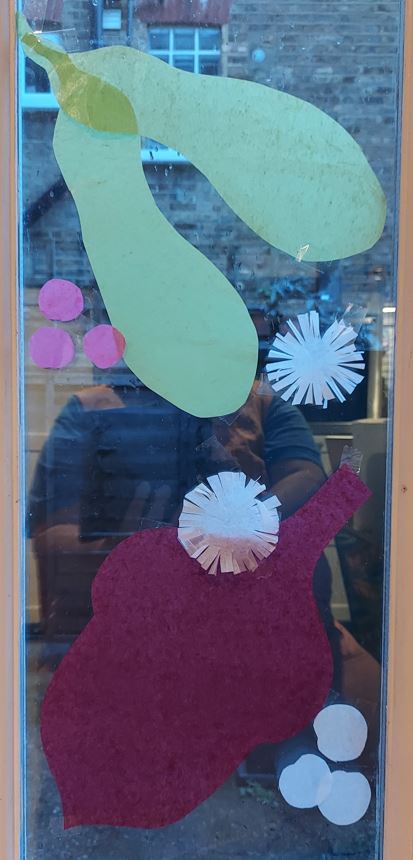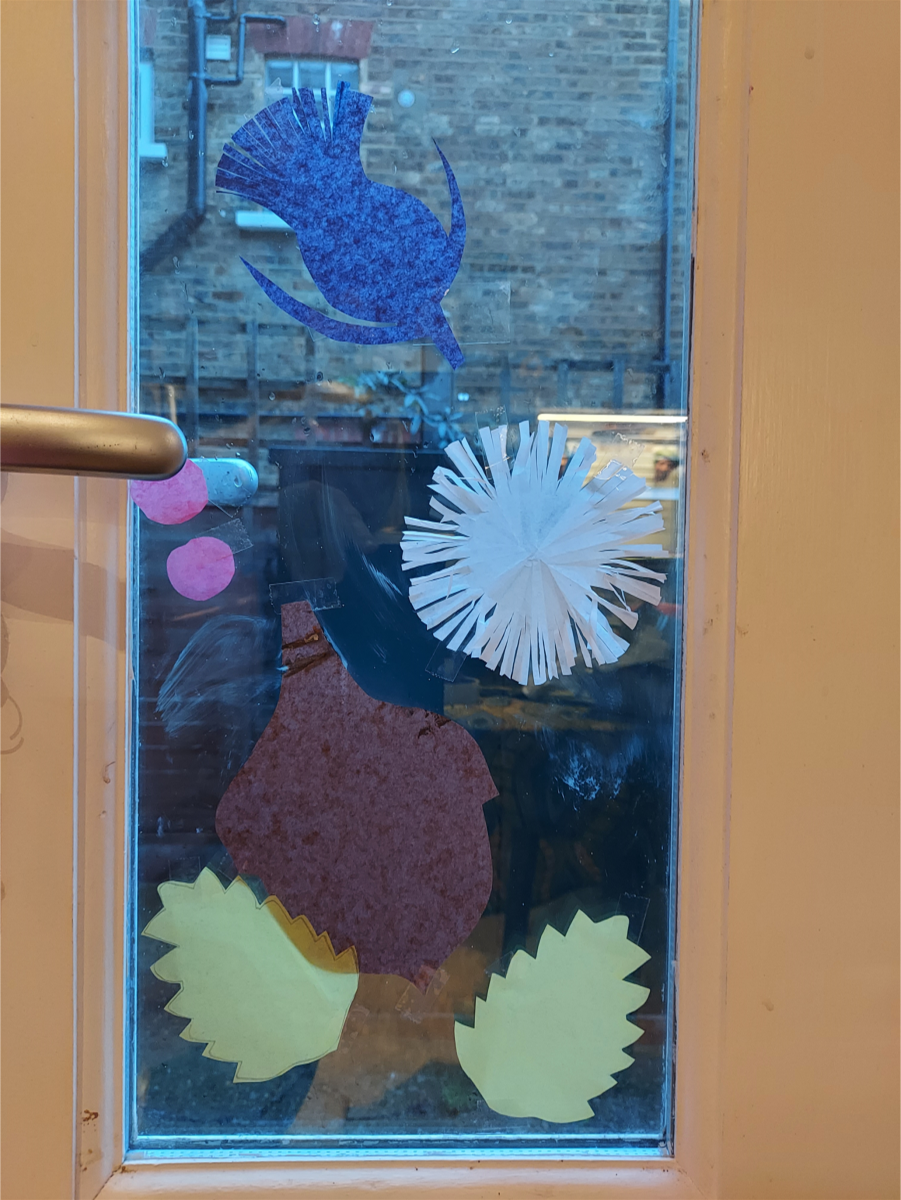 Click on the images below to read them more clearly
What is Window Wanderland?
This is a festival where everyone can be involved - and it's completely free to take part as well as enjoy.
You make your own window display in your own windows - using cut outs, paintings, stencils, collage - anything goes!
We have put together some suggestions here. 
Then during the festival, you leave your lights on between 6pm and 9pm so your windows are lit up and your window display can be seen.
Finally, you walk around your neighbourhood looking at your neighbours window displays.
How do you know who is taking part?
There is a Window Map where everyone registers their windows - see directly below.
The festival map is now LIVE
You can register your window right away - and all the way through to the very last day of the festival - but please do register your window so other people know where to see it.
Find the map here
Your theme can be anything of course - but if it does celebrate Wild-ness then that would be brilliant!
This video explains Window Wanderland much better than we can:
Window Wanderland 2019 from Window Wanderland on Vimeo.