This year we are celebrating the great outdoors with a terrific range of guided and self-guided Wild Walks.
You do need to reserve a place for most of the walks, as numbers are limited.
They are all completely FREE, except one where half price discounts are available.
Please scroll to the end of this page for our General Walks Info and Covid-19 strategy.


Code:
Red=FREE but essential to book 
Blue=FREE no booking
Orange=Ticketed and essential to book
All the Wild Walks have a banner image
5-8pm - and every day of Wild Norwood!
Window Wanderland FREE, no booking
Make plans for your own self-guided walk around your neighbours Window Wanderland Windows.
Find the Windows Map here which you can download (and the same link will allow you to register your own window too - registration remains open till 12 Dec!).
And the remaining Wild Walks are:
It's the final day of Wild Norwood and we end with two amazing Wild Walks
Sunday 12 December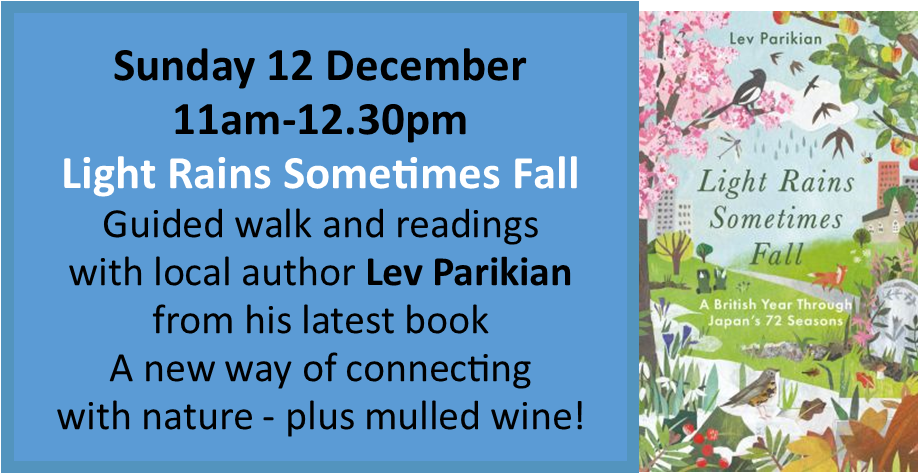 11am-12.30pm
Light Rains Sometimes Fall FREE but essential to BOOK HERE  - places limited to 25
This walk will be led by local author Lev Parikian. He will take us to some of the sites he references in his fantastic new book Light Rains Sometimes Fall and will also read from the book during the walk. See the British year afresh and experience a new way of connecting with nature – through the prism of Japan's seventy-two ancient micro seasons.
'Across seventy-two short chapters and twelve months, writer and nature lover Lev Parikian charts the changes that each of these ancient microseasons (of a just a few days each) bring to his local patch – garden, streets, park and wild cemetery.
From the birth of spring (risshun) in early February to 'the greater cold' (daikan) in late January, Lev draws our eye to the exquisite beauty of the outside world, day-to-day.
Instead of Japan's lotus blossom, praying mantis and bear, he watches bramble, woodlouse and urban fox; hawthorn, dragonfly and peregrine. But the seasonal rhythms – and the power of nature to reflect and enhance our mood – remain.
By turns reflective, witty and joyous, this is both a nature diary and a revelation of the beauty of the small and subtle changes of the everyday, allowing us to 'look, look again, look better.'
Meeting place: Outside West Norwood Library and Picturehouse, 6-7 Norwood Hight Stree, SE27 9JX
We will finish inside West Norwood Picturehouse with some (complimentary) mulled wine and a chance to ask Lev some questions.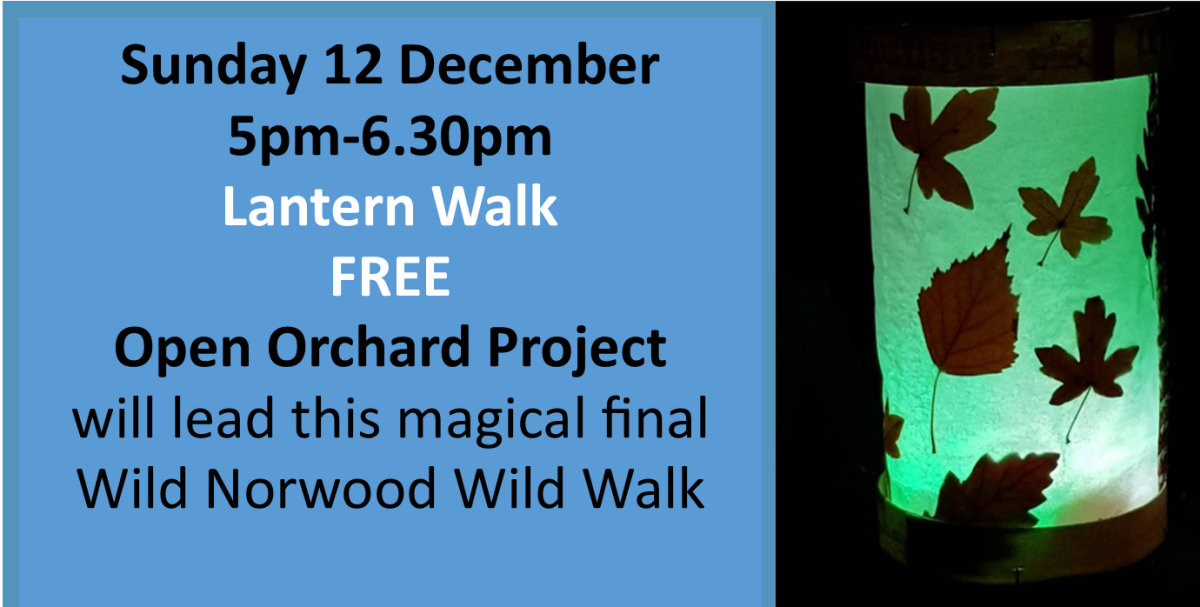 5pm-6.30pm
Magical Lantern Walk with Open Orchard FREE and open to all - no booking - just turn up
Join Open Orchard Project on a traditional lantern walk around West Norwood's wild and wondrous streets filling the night with light, sparkle and music!
Bring your own lantern – tree-, wilderness- or fruit-themed, whatever takes your fancy. See some ideas below on how to make your own.
Our walk will take us to visit some of the Window Wanderland windows created by our neighbours and will last about an hour and a half.
Please wrap up warm!
Meeting place: Outside West Norwood Library and Picturehouse, 6-7 Norwood Hight Stree, SE27 9JX.
Some inspirations for DIY lanterns:
www.redtedart.com/leaf-lanterns/?cn-reloaded=1
www.youtube.com/watch?v=yPaBSyTdPPI
www.youtube.com/watch?v=65Bx7QL12sU
https://liagriffith.com/fall-paper-cut-lantern/
Or find a lantern in a local charity shop, one you already have at home - or bring a torch!


Below we share the English versions of some traditional St. Martin's Lantern Walk songs. Shine bright!
I Go Outside With My Lantern
I go outside with my lantern, my lantern goes with me
Above me shine the stars so bright, down here on Earth shine we.
So shine your light in the still dark night, la bimmel, la bammel, la boom, boom boom.
'Neath heaven's dome till we go home, la bimmel, la bammel, la boom, boom boom.
My Lantern
My Lantern, my lantern
Sun and moon and stars.
Put out all your lights! Put out all your lights!
So my lantern can really shine bright!
Glimmer Lantern, Glimmer
Glimmer lantern glimmer, little stars a-shimmer.
Over meadow, moor and dale flitter flutter elfin veil.
Pee-wit pee-wit, tick-a-tack-a-tick, coo-coo-roo-coo.
Glimmer lantern glimmer, little stars a-shimmer.
Over rock and stock and stone wander tripping little gnome.
Pee-wit, pee-wit, tick-a-tack-a-tick, coo-coo-roo-coo.
Who are Open Orchard?
Open Orchard connects locals through fruit and the planting of fruit trees in public places. They strive to engage local residents in the planting and ongoing care of trees and provide them with free fruit while enhancing the biodiversity in our urban environment. 
Meet: Outside West Norwood Library and Picturehouse, 1-5 Norwood High St, SE27 9JX
And even after Wild Norwood sadly ends, there remains lots of terrific events happening across your neighbourhood this December - and beyond
See our Events webpage for details from mistletoe mapping to glowing gardens ...
---
Covid-19
All of our walks are outside.
Please keep your distance from people other than your own household.
Please wear a face covering when in close proximity to other people or if you find yourself in a confined area.
Please DO NOT attend if you have any remotely similar symptoms as described by the NHS here: https://www.nhs.uk/conditions/coronavirus-covid-19/symptoms/
General Walks Info
None of our walks have any age restrictions.
Please check the weather and come appropriately dressed. Unless you hear from us, the walk (in some format) will go ahead whatever the weather.
If its a night time walk and you have young children, they might like to bring their own torch or lantern.
Please arrive at least 5mins before the walk start time so we can begin promptly.
For the walks that you book for, if you find you cannot attend, please let us know so we can allocate your place to someone on the waiting list.
If you have any mobility issues, please contact with us well in advance so we can discuss the landscape of the walk: info@norwoodforum.org
You are welcome to bring your own refreshments and snacks.
We look forward to walking with you!
Let's go Wild