Welcome to Wild Norwood 2021!
Wild Norwood is a celebration of nature in an urban inner London borough.
The dates for this year's festival are: Saturday 27 November - Sunday 12 December
This year Wild Norwood 2021 is part of the brand new Winter Festival brought to you through our partnership with West Norwood Feast and Station to Station: West Norwood & Tulse Hill BID with European funding through Lambeth and the Welcome Back Fund.
Wild Norwood 2021 has two parts, the first is Window Wanderland and the second is our programme of Wild Walks
What is Window Wanderland?
This is a festival where everyone can be involved - and it's completely free to take part as well as enjoy.
You make your own window display in your own windows - using cut outs, paintings, stencils, collage - anything goes!
We have put together some suggestions here. 
Then during the festival, you leave your lights on between 5pm and 8pm so your windows are lit up and your window display can be seen.
Finally, you walk around your neighbourhood looking at your neighbours window displays.
How do you know who is taking part?
There is a Window Map where everyone registers their windows - see directly below.
The festival map is now LIVE
You can register your window right away - and all the way through to the very last day of the festival - but please do register your window so other people know where to see it. Find the map here
Your theme can be anything of course - but if it does celebrate Wild-ness then that would be brilliant!
This video explains Window Wanderland much better than we can:
Window Wanderland 2019 from Window Wanderland on Vimeo.

The second part of Wild Norwood 2021 is our programme of Wild Walks
The Wild Walks Programme is now live!
All are FREE, except one which is half price, but most need booking as numbers are limited.
For a shorthand list see below, and CLICK HERE for more details and booking links.
Saturday 27 November
Wild Norwood begins!
12noon-12.15pm
Festival launch and unveiling of community window displays at West Norwood Library and Picturehouse
Live and live-streamed to Facebook @TheNorwoodForum
5pm-8pm - and every day of Wild Norwood
Window Wanderland!
Your first chance to walk around Norwood's Window Wanderland! Wrap up warm
Sunday 28 November
11.00am-12noon
Getting to know your Pavement Plants with South London Botanical Institute
1.00pm-2.30pm
Foraging walk, Tivoli Park and Knights Hill Wood with Nature Vibezzz
Wednesday 1 December
12.15pm – 1.30pm
Walking for Health with The Ramblers
Thursday 2 December
3.30pm-4.45pm
Spooky walk of West Norwood Cemetery with Iain Boulton, Lambeth Community Parks Officer
Saturday 4 December
2.30pm-3.45pm
#TasteNorwood The Norwood Food Trail with Norwood Forum
3.00pm-4.00pm
Norwood Park and The Great North Wood with Iain Boulton, Lambeth Community Parks Officer
Sunday 5 December
2.30pm-3.45pm
#TasteNorwood The Norwood Food Trail with Norwood Forum
Wednesday 8 December
12.15pm – 1.30pm
Walking for Health with The Ramblers
Saturday 11 December
10am-4.30pm – it is also possible to join for just half a day
Walking the Hidden River Effra with Jenni Bowley
Festival Finale Walks
Sunday 12 December
11am-12.30pm
Light Rains Sometimes Fall with Lev Parikian
5pm-6.30pm
Magical Lantern Walk with Open Orchard
And even after Wild Norwood sadly ends, there remains lots of terrific events happening across your neighbourhood this December - and beyond
See our Events webpage for details from mistletoe mapping to glowing gardens ...
---
In your neighbourhood
As well as your own windows - there will also be a wild animal footprint trail along the shop windows of Norwood Road, and a large community display in the windows of West Norwood Library and Picturehouse.
Community Windows workshop
If you would like to cut out some footprints to help with the community window, then join us between on Tuesday 23 November, 4pm-5pm in West Norwood Library's children's section .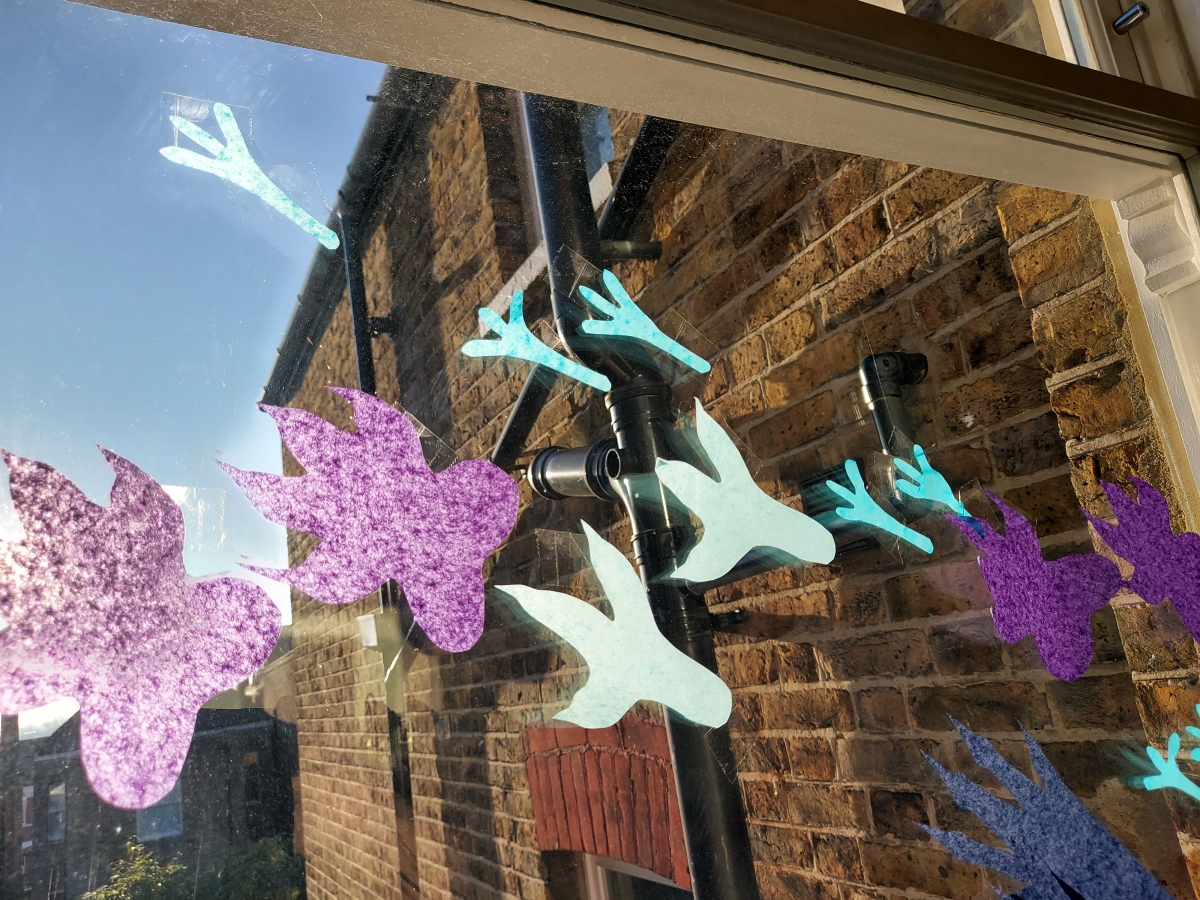 Lets go Wild!
(click to enlarge)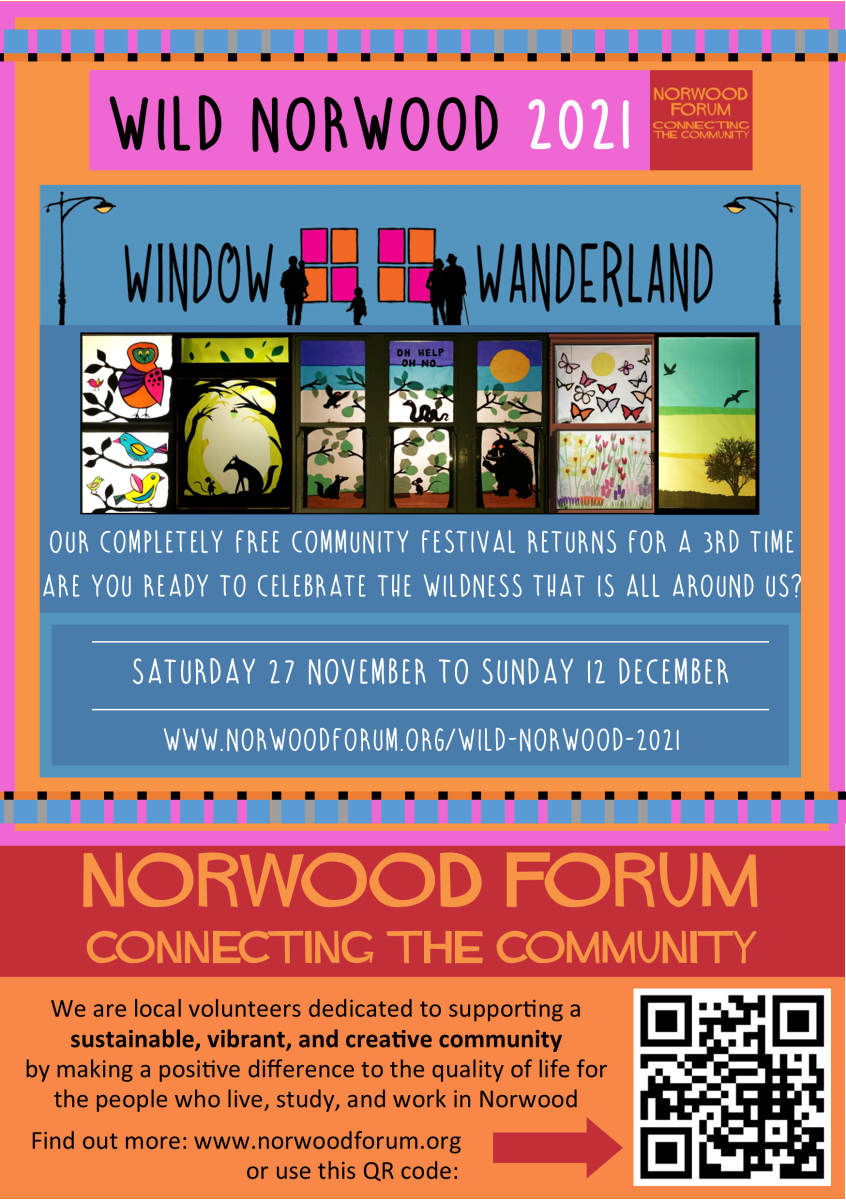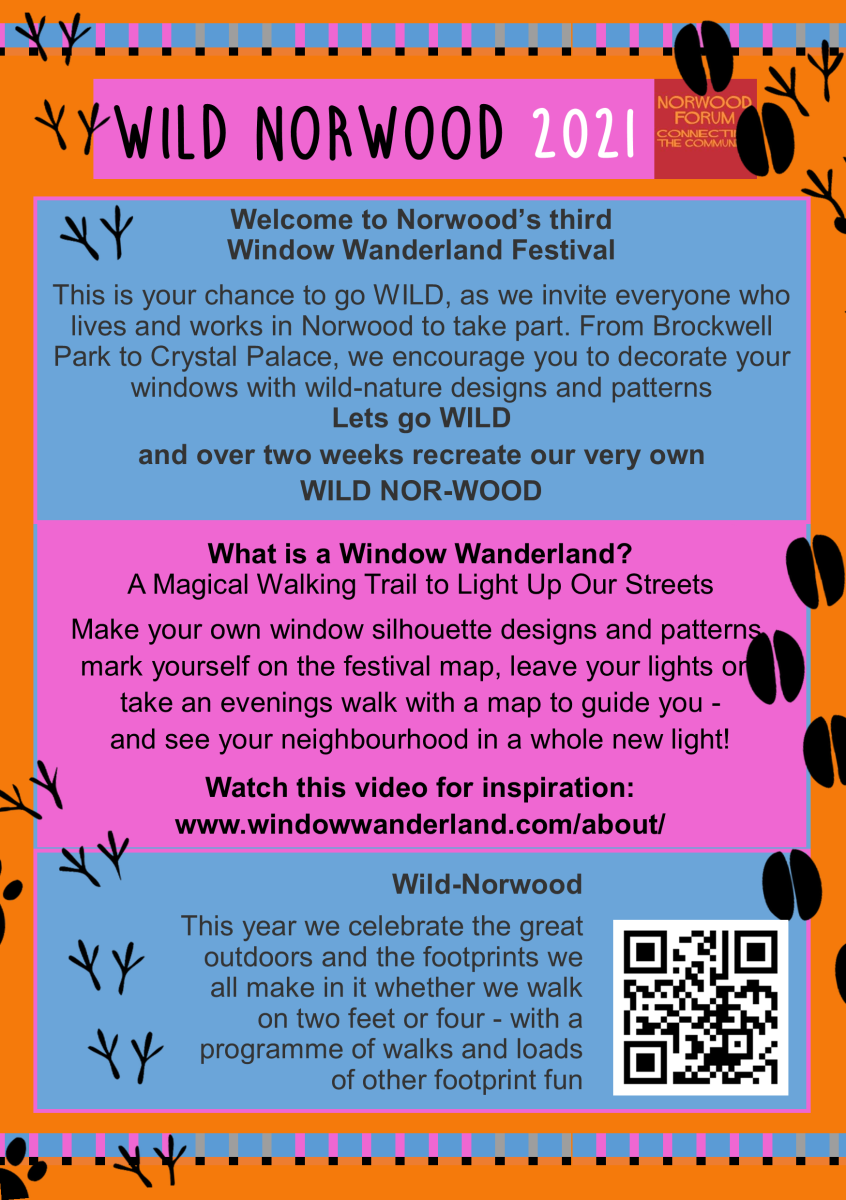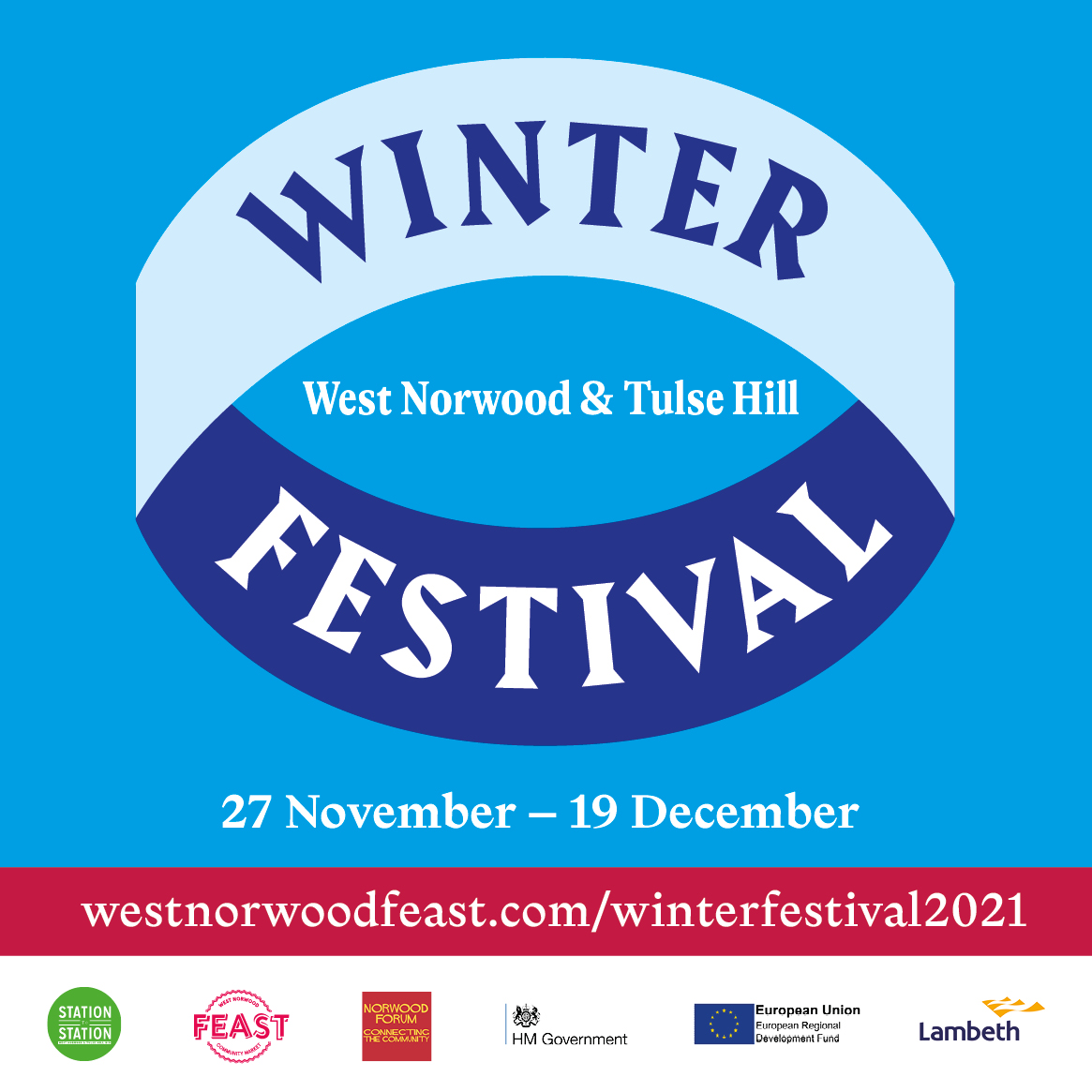 ---