Due to unforeseen circumstances, the deadline to apply for round 2 #ThrivingNorwood funding has been extended.
Support and advice:
Drop-in advice session Friday 28 April 12noon-2pm West Norwood Picturehouse
Virtual workshop Wednesday 3 May 6-7pm - please email thrivingnorwood@norwoodforum.org to receive the Zoom link
NEW DEADLINE for applications Monday 8 May 11.59pm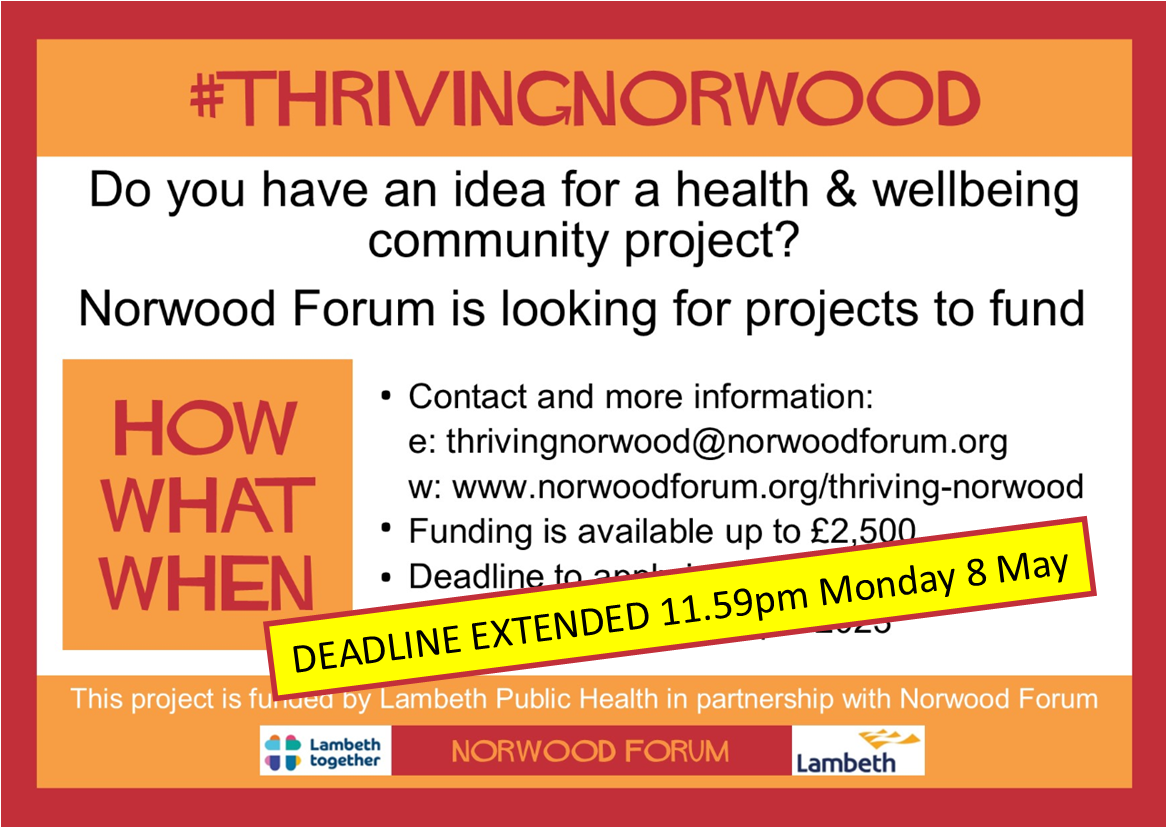 Scope
Round 2 has two aims:
Firstly, the scheme is designed to fund projects that will genuinely impact the all round health and wellbeing of those most in need of support in our community.
Secondly, whatever your project is about, we will expect you to share other health and wellbeing information, which will include cost of living support, which will include cost of living support. You will be provided with appropriate information to share and support to do this, but you will also be expected to connect yourself into what else is going on. By this we mean both the other successful projects in this funding scheme, and also what else is happening such as by the NHS, Lambeth Public Health or other Lambeth Council initiatives including one off events and activities or other relevant initiatives. You will be introduced into the existing Thriving Hub network and supported to increase your own network. The legacy of this scheme will not only be measured by the longer term impact your project has had on the people taking part, but also on long term impact it has made on you.
Application form can be accessed here - this does not need to be completed in one go, it automatically saves as you write.
Background notes here - please read these first
Any questions, please email us: thrivingnorwood@norwoodforum.org
#ThrivingNorwood Stakeholders 
Are you involved in the health & wellbeing sector, and work within Norwood? Whether or not you will be applying for this funding, you are very welcome to join the monthly online #ThrivingNorwood Stakeholders meeting, please get in touch to find out more: thrivingnorwood@norwoodforum.org
#ThrivingLambeth
Thriving Communities is a new website that connects you to the huge range of health and wellbeing events, activities, networks and volunteering opportunities in your Lambeth neighbourhood. You can also post your own events and activities. https://thrivinglambeth.co.uk/
---
Round 1
Below is a recording of the virtual workshop we ran for the Round 1 funding scheme, which you might find helpful.
Please note Round 1 was only focused on Gipsy Hill.
Round 2 covers an expanded area - the whole of Norwood.